Zebra Mando Murder: If you Know the Killers, we Want Justice – Muhangi Appeals to Museveni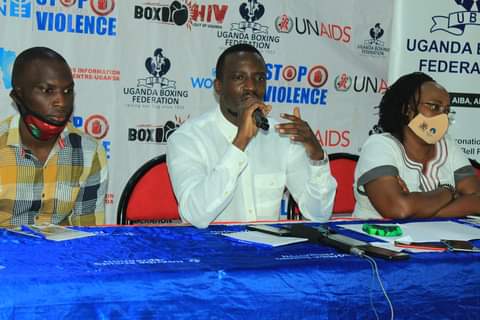 After a gruesome murder of former boxer Zebra Ssenyange Mando, Uganda Boxing Federation (UBF) president Moses Muhangi expressed concern over the growing fear amongst coaches and boxers and the entire boxing fraternity.
Moses Muhangi tasks government and the head of State in particular to come out and put Isaac Zebra Ssenyange Mando murderers to book since he confessed to know them.
Muhangi revealed that for a very long time, boxers have been victimized in the society as many puglists have been looked at as criminals and arrested on just suspension grounds and currently everyone in the fraternity is living under fear.
 "There's a lot of growing fear in the boxing fraternity since unprecedented situations broke out. It started with Justine Jjuuko's arrest with no clear reason who was released with dropped charges, Vegas Lubega, Mudde Ntambi, Kizza, Soldier man who are currently missing and Zebra Ssenyange Mando's brutal death in the wee hours of Tuesday morning crowned it all." Muhangi.
"As a federation we have limits on clear reports but very worried about the syndicated acts on the people who are associated to our sport.
All our eyes are on you the president for justice since you confessed that you know the assailants." He added.
Muhangi's statement comes after Museveni's confession that security personals killed Zebra Mando and he knows them on 31st December 2020 during his end of year address.
Muhangi further called for calmness amongst the coaches and boxers amidst this trying time
"At such a critical moment full of sorrow, let's stay calm. Let's not give chance killers chance for excuses." Muhangi.
About Author