Women Football: CAF Reveals Format, Date For Inaugural Women's Club Champions League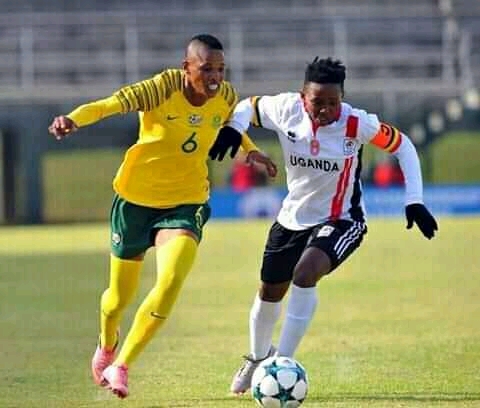 By: Kayiira Jackson
The African football governing body, Confederation of African Football (CAF) revealed how and when the inaugural Women Club Champions league will be held.

In the meeting the body held on Thursday, 10th September 2020, Executive committee decided that the final tournament of Women Champions league will have eight clubs and it's to be held in the second half of 2021.
"Each of the six CAF zones will organize  qualifiers to determine the finalists for the eight teams to tournament." A statement reads before continuing.
"The breakdown is as one team from each zone, one team from the host country and one additional team. For maiden edition, the zonal union of the host country will have two two representatives."
"However, for subsequent editions, the host country will have only one representative whilst the zonal Union of the defending champion will qualify two teams."
CAF has six zones which include; CECAFA, COSAFA,UNAF, UNIFFAC, WAFU A and WAFU B.
The format according to CAF will be that, two groups, and each with four teams.
"The eight qualified teams will be drawn into two groups of four teams each in accordance with the regulations." CAF said.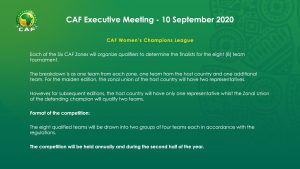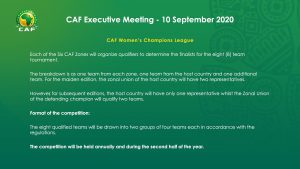 In the same meeting, the Executive confirmed that the Africa Women's Cup of Nations (AWCON) will take place in July 2022 while Total African Nations Championship will be hosted between 16th January and 7th February 2021 in Cameroon.
"Initially scheduled for 4-25th April 2020 and postponed due to the COVID-19 pandemic, the final tournament of Total CHAN Cameroon championship will now take place on 16th January to 7th February 2021." CAF confirmed.
About Author