USSSA NATIONAL BALL GAMES II: Giants St. Noa Girls, Kitende, Buddo SS, Kibuli threw off with victories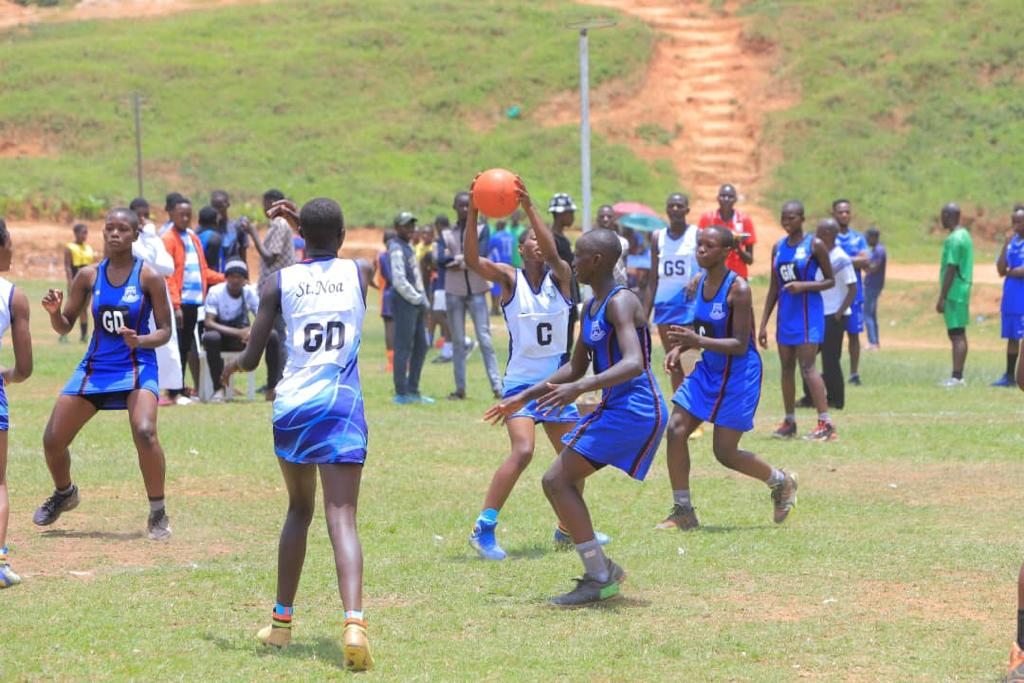 10th July 2023
St. Mary's College – Rushoroza 
St Noa (21)-(04) Mandela College
Buddo Sec (31)-(09) Kaliro High
Kitende (29)-(05) Kazo Hill
Kibuli Sec (26)-(08) Mary Hill
Uganda Secondary Schools Sports Association (USSSA) National Ball Games II Netball championship threw off in style.
Uganda Secondary Schools netball giants St. Noa Girls SS, St. Mary's Kitende, Buddo SS and Kibuli threw off the championship with convincing wins on day one.
2018 FEASSSA champions St. Noa Girls-Zana eased past Bunyoro region's Mandela College by a 21-4 win in their group H opener.
National and FEASSSA reigning champions St. Mary's – Kitende outclassed Kazo Hill in 29-5 classic win as their tittle defense agenda got underway.
Wakiso district/region/zone finalists Buddo Secondary School were the other power house winners on the day.
They beat Kaliro High school 31-9 in one of the day's high scoring ties.
On the same day, Uganda's most decorated overall Schools sports Giants Kibuli SS beat Mary Hill 26-8 in their rejuvenation journey after years of slip.
Elsewhere, Ngando SS won 24-10 against Ediofe, whilst Blessed Sacramento Kimanya registered a slim 13-10 victory over Arua Public School.
Kawanda SS and Baptist High School, (both from Wakiso) won 18-10 and 27-4 against Mateete Comprehensive and St. Peters Nsambya respectively.
This year's edition is in Kabale at St. Mary's College Rushoroza running from 9th to 18th July.
The two top schools per group will qualify to the round of 16 stage, then quarter finals, semi-finals and finally finals to determine the champion.
The semi finalists will earn direct slots to the 2023 FEASSSA Games in Huye City, Rwanda due to next month.
DAY ONE RESULTS
Kitende (29)-(05) Kazo Hill
Kibuli Sec (26)-(08) Mary Hill
Canaan (21)-(07) Bweranyangi Girls
Kimanya (13)-(10) Arua Public
Kadungala Sec (16)-(08) St Jerome
Banabas (18)-(09) St Catherine
Baptist High (27)-(04) St Peters Nsambya
Bukedea Comp (07)-(21) Kyanja High
Kaliro High (20)-(09) YY Okot Mem
Mukono Kings (25)-(08) Bishop Comboni
Ngando (24)-(10) Ediofe
Dynamic (16)-(13) Busuuju
Green Light (21)-(08) Bweera
Kawanda (18)-(10) Mateete Comp
Singo Sec (20)-(10) Boni Consili
Ahmadiya (24)-(07) St Adolf
St Jude (13)-(07) St Kalemba
Dara Christian (13)-(12) Dr Apuru Okol
Broadway (14)-(14) Trinity College
Lugazi Homeland (12)-(16) Hillside
St Joseph Bakhitta (15)-(13) Kyotera
Masese Seed (07)-(13) St Andrea Khaawa
Nankabirwa (22)-(15) Kihanga Sec
Jinja sec (13)-(12) Bwikya Muslim
St Noa (21)-(04) Mandela College
Buddo Sec (31)-(09) Kaliro High
Busiika (15)-(17) Kanjjasi Comp
Mangadelena (13)-(15) Tororo Girls
Kawempe Muslim (27)-(07) Sironko Parents
Nkoma (12)-(12) Muni Girls
Kitende (39)-(03) Isingiro Sec
Bulo Parents (14)-(14) Rines
MaryHill (28)-(03) Kapchorwa
About Author