USSSA Fresh Diary Games Qualifiers: Taggy High, St. Noa Girls-Zana, Wakiso Hill register massive wins on day one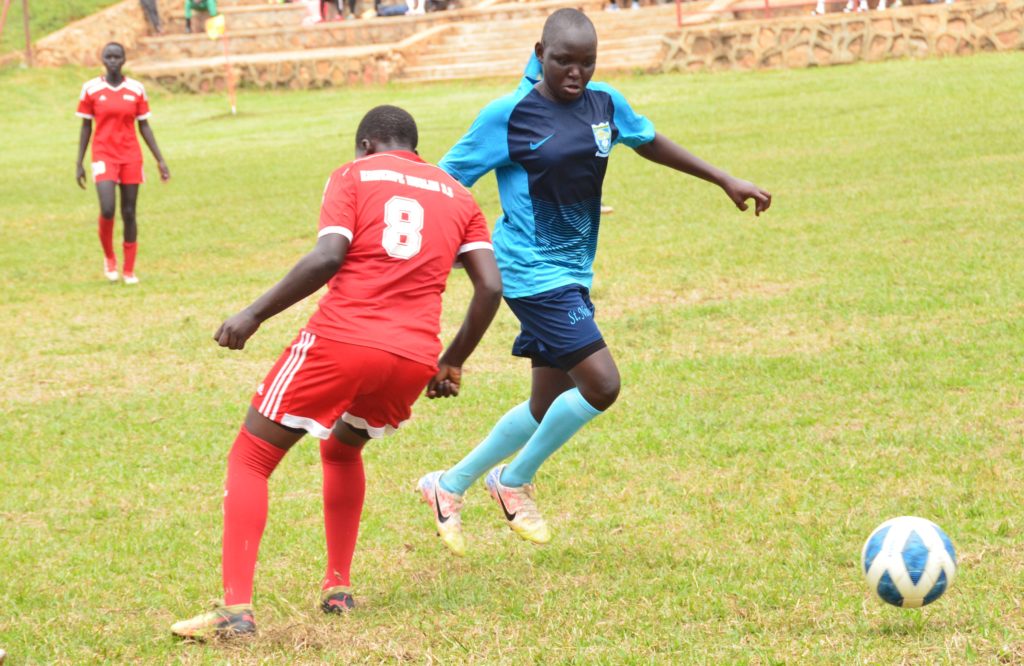 Defending champions St. Noa Girls Secondary Schools-Zana football team started title defence journey with two victories on day one of Wakiso district National qualifiers championship.
In their opener, St. Noa Girls-Zana beat Hope Bbira 3-0. Gigantic forward Nancy Mandera scored a brace and one from Sylvia Kabene.
Mandera and Kabene bounced back in game two with a goal each as St. Noa Girls-Zana overcame God Cares by 2-0.
Taggy High School Entebbe were the most shining stars on day one with thrilling wins.
It was goals galore in their opener as Taggy staged a thrilling 15-0 win against helpless London College.
Kamiyat Naigaga scored 7, Gloria Nasuuna 4, and Zaitun Namaganda, Maria Nabanja, Mariam Kanjako and Florence Asiimwe scored one each.
Taggy continued the riot mission with a 12-01 against Light SS and Vocational Bulenga
Kamiyat Naigaga continued with her scoring prowess with 05, Zaitun Namaganda 03, Florence Asiimwe 02 Gloria Nasuuna and Sharifs Nakigudde one each.
Elsewhere, Wakiso Hill started on a higher gear than ever with a 5-0 win against debutants Standard High School-Zana.
In their second game, Wakiso Hill thumped Kirinya SS 7-0 to seal two massive victories.
The 2019 first runners up Rines SS overcame Fairway High School 1-0 in the opener before they beat Trinity College 3-0.
Kamiyat Naigaga of Taggy High School Entebbe is the leading goal scorer with a tally of 12 goals in two games.
Games resume this morning as each team will face two opponents on day two.
Full results
GROUP A
ST NOA 3-0 HOPE SS
KIRA SS 0-3 GOD CARES
HOPE SS 7-1 KIRA S S
GOD CARES 0-2 ST NOA
GROUP B
TAGGY 15-0 LONDON COLLEGE
NAMUGONGO 0-1 LIGHT SS
LONDON COL 0-1 NAMUGONGO
TAGGY 10-1 LIGHT COLL
GROUP C
WAKISO HILL 5-0 STANDARD H
AIDEN COL 4-0 KIRINYA
STANDARD H 0-0 AIDEN COL
KIRINYA H 7-1 WAKISO HILL
GROUP D
RINES 1-0 FAIRWAY H
TRINITY COL 0-3 RINES
SSANGA 2-1 TRINITY
FAIRWAY 6-0 SSANGA
About Author