USSSA 2023 boys football draws held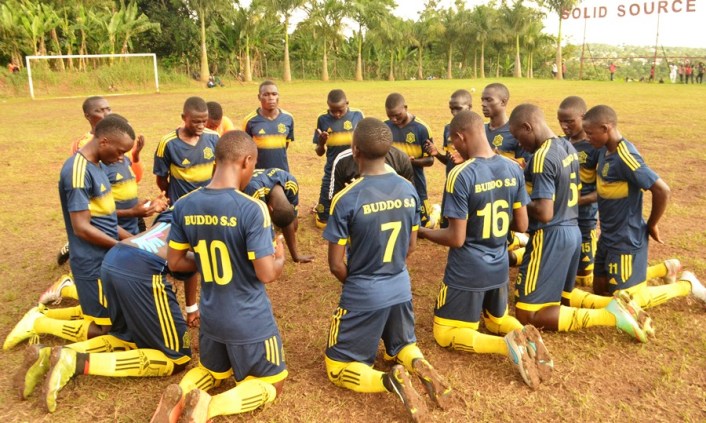 The draws for the 2023 USSSA Boys football championship have been held today Wednesday 3rd May at MTN Arena Lugogo.
The games are to be hosted by Nyakashura which have been pitted in group B alongside Mengo SS, Ryakasinga Che, London College Nansana, Sironko, Progressive, Alwa SS, Negri College and Aki Bua SS.
Wakiso finalists St Mary's Kitende are in group A with Tororo Town College, Bishop Comboni Kambuga, Jinja Comprehensive, Latifa Mixed, Teso Progressive, Nakaseke International College and St Henry's Kitovu.
Group E has Wakiso champions Buddo SS, Mbale Progressive, Mityana SS, Alfred SS, Victoria High School, Fort Portal School, Amus College, Blessed Sacrament Kimanya
Schools are expected to report in Fort Portal on Saturday 6th and the tournament will climax on 20th May.
Full Draws
Group A
1. St. Mary's Kitende
2. Tororo Town College
3. Bishop Comboni Kambuga
4. Jinja Comprehensive
5. Latifa Mixed
6. Teso Progressive
7. St. Henry's Kitovu
8. Nakaseke International
Group B
1. Nyakashura School
2. London College Nansana
3. Sironko Progressive School
4. Ryakasinga Che
5. Alwa SS
6. Negri College Gulu
7. Mengo SS
8. Aki Bua SS
Group C
1. Kawempe Muslim
2. Nabumali High School
3. St. Dennis Kijjaguzo SS
4. Westville High School
5. Mpigi Mixed
6. Dokolo Progressive
7. St. Bernard's SS Manya
8. Welden High School
Group D
1. Jinja SS
2. Nakwasi Seed SS
3. St. Kaggwa High School Bushenyi
4. Standard High Zzana
5. Old Kampala SS
6. St. Kalemba SS
7. St. Joseph's College Layibi
8. Bukedea Comprehensive
Group E
1. Buddo SS
2. Mbale Progressive
3. Mityana SS
4. Alere SS
5. Fort Portal School
6. Victoria High School
7. Blessed Sacrament Kimanya
8. Amus College
Group F
1. Mukono Kings
2. Patongo Seed
3. St. Gerald's Nyakibale
4. Kigumba Royal College
5. St. Mary's SS Simbya
6. St. James SS Dazaip
7. Lakeside Masese
8. Kawempe Royal College
Group G
1. Jinja Progressive
2. St. Julian Gayaza
3. Nkoma SS
4. Africa With Love High School
5. Arua SS
6. Wisdom High School
7. Uganda Martyrs Lubaga
8. Panyadoli SS
Group H
1. Kibuli SS
2. Kihanga SS
3. Kabalega SS
4. Lotuke Seed SS
5. Tororo Progressive
6. Nganwa High School
7. Mulusa Academy
8. Royal Giant School