UOC elective assembly ushers in Donald Rukare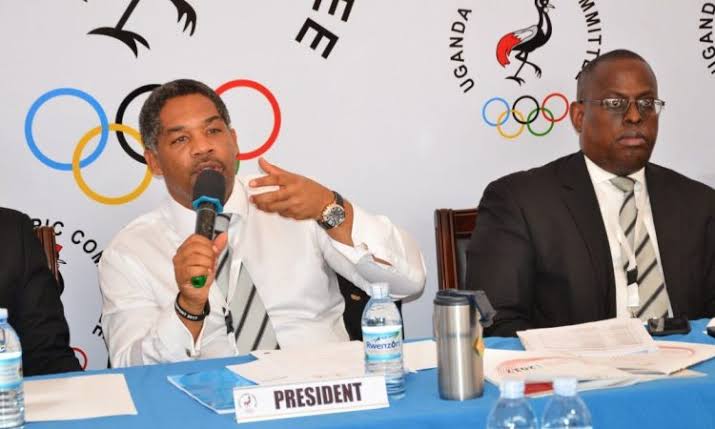 Following the climax of the elections during the Uganda Olympic Committee (UOC) elective assembly at the organization's headquarters in Lugogo- Kampala on Saturday 27th February, Donald Rukare was confirmed the new president.
Donald Rukare, a multi sports administrator took over William Blick whose two terms in office came to an end having served for UOC for over ten years as president.
Rukare is also the current National Council of Sports (NCS) board chairman and served in the capacity of a secretary general of UOC during William Blick's tenure.
The former Uganda Swimming Federation president Donald Rukare sailed through unopposed and will run UOC for the next four years banking on his four year strategic pillar as he asserts.
"In this new journey, we intend to promote sports made in Uganda on and off the field as per our strategic plan .
We shall focus on four strategic pillars of putting athletes at the center of what we do, unwavering commitment to the mission, service with integrity and passion, inclusive equitable, participatory and transparent leadership and enhancing partnerships with key stakeholders." Said Rukare after elections.
A part from Rukare, other executive members who included First Vice President Dunstan Nsubuga, Second Vice President Moses B Mwase, Secretary General Patience Beatrice Ayikoru, Assistant General Secretary Lydia Gloria Dhamuzungu, Treasurer Zaid Sadik Nasiwu, two female board executive members Annie Mungoma and Carolynne Joanne Adongo all sailed through unopposed.
The only posts voted for were the two male board executive members where the Uganda Basketball president Abdul Nasser Sserunjogi (21 votes) and Godwin Arinaitwe Kayengwe (Uganda Rugby Union) (19) beat Simon Peter Komakech and Richard Mcbond Asiimwe who were interested in the seats.
After a thorough vetting process, the assembly also confirmed Uganda Climbing Federation as a new member taking the total to 31 member federation.
A budget of 8 billions was also passed by the assembly.
Full list of the new executive.
President – Donald Rukare
First Vice President- Dunstan Nsubuga
Second Vice President- Moses B Mwase
Secretary General- Patience Beatrice Ayikoru
Assistant General Secretary- Lydia Gloria Dhamuzungu
Treasurer- Zaid Sadik Nasiwu (President Uganda Volleyball Federation)
Executive Board Members
Annie Mungoma
Abdul Nasser Sserunjogi (President FUBA)
Godwin Arinaitwe Kayengwe
Carolynne Joanne Adongo
About Author