Fifty turn up for FUFA referees' physical fitness test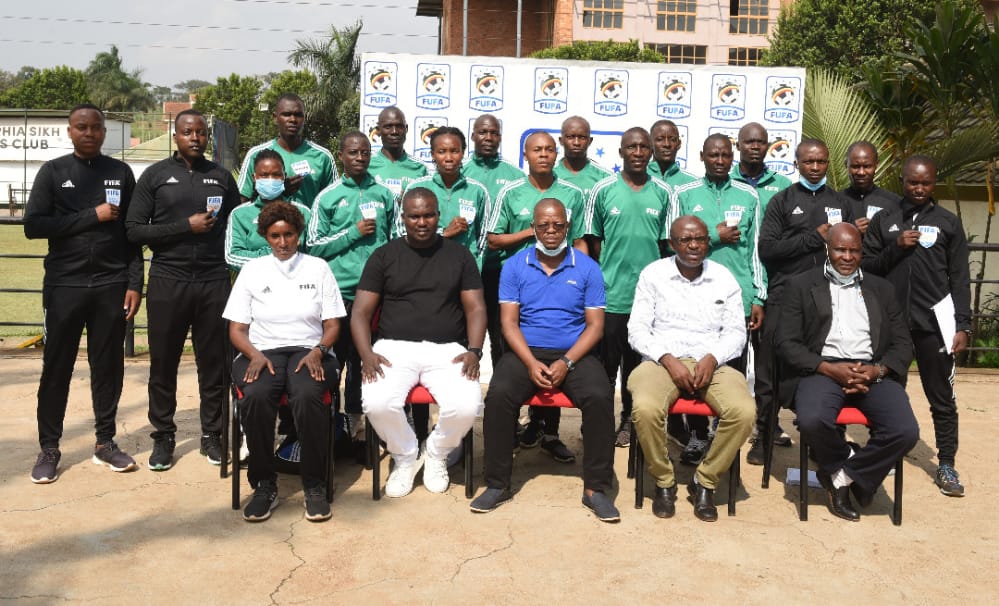 FUFA have today Sunday 28th February 2021 organized a physical fitness test for elite and national referees at Philp Omondi Stadium in Lugogo.
A total of 50 referees from the elite and national class turned up for the evaluation exercise which climaxed with the handing of FIFA budges to respective holders at Kati-Kati restaurant in Lugogo.
National fitness instructor Ali Kalyango and his deputy Rahma Kizito together with facilitators Samuel Egesa, Ronnie Kalema, Shaban Ndawula, and Ronald Mwesigwa conducted the exercise.
The exercise is undertaken four times in a year in a bid to ascertain the level of fitness for the referees ahead of continental assignments and national events like Uganda Premier League, FUFA Big League, Stanbic FUFA Uganda Cup, FUFA Drum among others.
This is the first exercise held this year as more three will follow before the end of this calendar year.
The exercise establishes the referees' fitness levels as well as updating and refreshing their knowledge and skills in the discharge of their abilities.
It also updates the participants on the Laws of the Game as well as evaluate their fitness and technical abilities.
Full list of referees who attended
Mashood Ssali, Alex Muhabi, Ali Sabilla Chellangat, William Oloya, Ronald Madanda
Rajab Bakasambe, Deogratius Opio, George Olemu, Asadu Semere, Robert Donney, Paul Turyamureba, Nasser Mohammed Kirya. John Bosco Kalibala, Muzamiru Waiswa, Lucky Kasalirwe, Ali Kaddu Kizza, Sajjabi Geodfrey, Osire Juma ,Byaruhanga Henry, Muyaga Khalid, Kibugwe Robert, Omara Paul, Lulenzi Sharif, Mukisa Umaru, Mugerwa Richard,Kakembo Ahmed ,Kavuma Vicent,Turyamureeba Paul , Olemu George, Agir Tonny, Musisi Brianson, Kasibante Julius, Mbabaali Samuel, Ngyendo Gilbert, Kiragwa Ronaldie, Zziwa Charlse Edward, Sekayuba Fahad, Kimbowa Richard, Okwang Mario, Friday Noah, Mustaphah Mafumu,Gumisiriza Timothy, Atusiguza Robinsonjohn,Kimayo Stephen, Oloya William, Katenya Ronald, Donney Robert, Masembe Isa, Okello Lee, Musisi Herny, Nkurunziza George, Kadda Ali Kizza, Okello Dick, Mulindwa Hakim, Nantabo Lydia Wanyama, Nassolo Elizabeth, Katende Hamza, Sabila Ali, Ayaro Florence, Madanda Ronald, Muhabi Alex, Ssemeere Asadu, Hassan Majid, Mulindwa Ismailah, Aghiro Immaculate, Ssali Mashood, Naigaga Habibi
About Author