Uganda Airlines becomes new She Cranes travel partner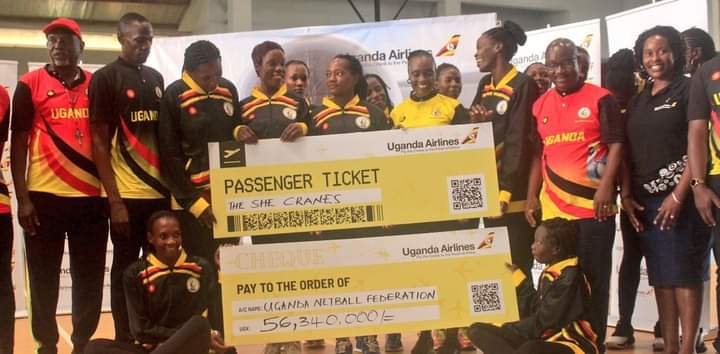 Uganda Netball Federation (UNF) have unveiled Uganda Airlines as the official She Cranes travel partners. The sponsorship is worth UGX. 56.34 million.
The sponsorship was unveiled on Friday, 30th July 2023 at ARVS International School in Nakirebe.
The deal comes at a time when the financial strained She Cranes is getting ready for it's fourth historical World Cup appearance set for July 2023 in South Africa.
The 56.34 million shillings comes with passenger tickets for She Cranes and it's officials to travel to Cape Town with ease ahead of the Vitality Netball World Cup.
"We are proud to be partners with the She Cranes. Under this sponsorship, we (Uganda Airlines) have made a  contribution of 56,340000 shillings "
 "Netball has over the past built it's reputation and indeed it's a great brand now.
Uganda Netball performance globally, the brand establishments and achievements locally and in the East African regional, puts it to the table of the most successful sports disciplines in the country." Uganda Airlines Sales and Marketing Manager Deo Nyanzi.
The event was also graced by the Uganda Airlines CEO, Jenifer Bamuturaki
Speaking on behalf of Uganda Netball Federation, CEO Francis Banya said,
"We thank Uganda Airlines for making a rightful choice. She Cranes is a well known and supported brand globally. We are going use the money effectively to give you visibility that you deserve."
As part of the terms in the package, She Cranes outfits in World Cup will be branded with Uganda Airlines logo either at the back or front of the match day kit.
Uganda is in group D alongside defending champions, New Zealand, Trinidad and Tobago and Singapore.
About Author