STAR PROFILE: Mariam Nakabugo, The Kawempe Muslim's Norm Breaker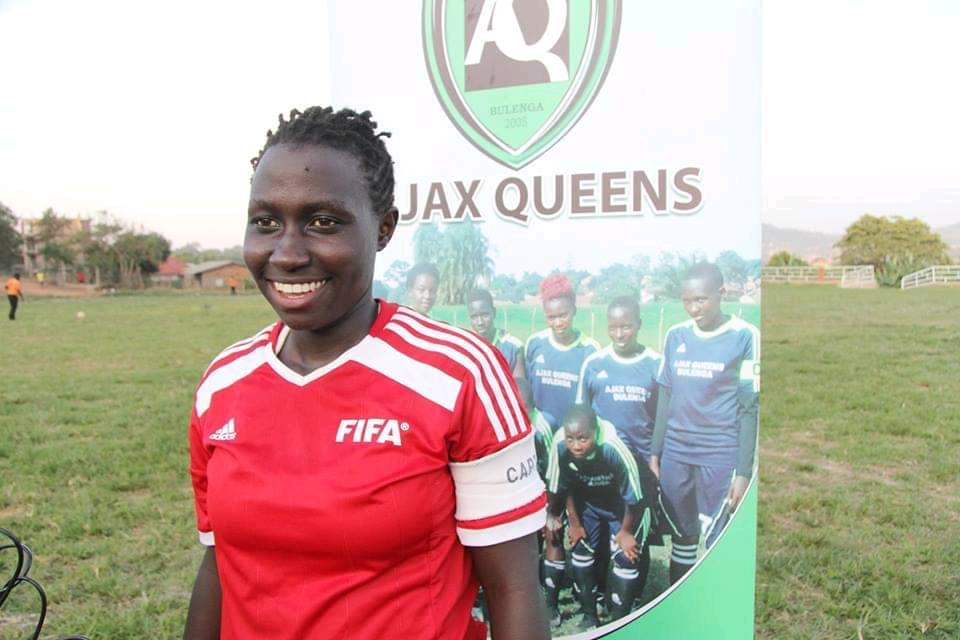 Every club or institution has different norms it strings along with, since their inaugurations and they are normally hard to break.
However, www.nimsportug.com ushers you in to the record and norm breaker at Kawempe Muslim Secondary School.
This is none other than the longest serving skipper and outstanding central defender at the school and club, Mariam Nakabugo.

The four-time FUFA Women Elite league winning defender, was born on 23rd/ March/2000 (20 years old) from Bombo Barracks Medical Hospital, Luweero District to the family of Late Kamya Adam and Mrs. Tumuhimbise Jackline the resident of Bombo.
The Kawempe Muslim defense top dog is the last born in the family of six children, four boys and two girls and she is the only active footballer at a high ranked league organized by FUFA.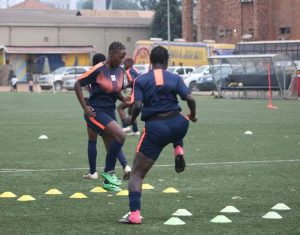 The skipper decorated her brand with good ball control, exceptional aerial ball clearances, game reading and prescribe in defence to rank among the top best defenders the All-time league champions have ever had, according to legendary tactician, Ayub Khalifah Kiyingi.
"If am to rank the top defenders I have ever had, I can allude about Yudaya Nakayenze and Hawadifo Jeninga The two a top notch and after them, there comes Nakabugo Mariam." Ayub Khalifah told this website.
Nakabugo has won everything there to compete for with Kawempe, apart from the FUFA Women's Cup.
Education Journey
Nakabugo who dreams to be a journalist, had her elementary education at Bombo Barracks Nursery and Primary school where she studied until mid-2012 in primary six before shifting to Lukomera Primary School, Luweero, where she completed primary six before joining St Julian Junior School- Gayaza where she sat for her Primary Leaving Examination (PLE) in 2013.
Due to her freakish talent, she was to continue to the secondary wing of the same school but later twisted following a ban imposed to St Julian.
Her move was after an advice from her senior and friend Tracy Jones Akiror who was then a captain at Julian. Nakabugo moved to Kawempe Muslim for her secondary school education.
Nakabugo disbursed all the six years of secondary school education at Kawempe Muslim from 2014 to 2019 and at Advanced level, the 'black beauty' did History, Economics, Swahili and ICT in her combination.
A daughter to a UPDF solider, aiming at pursing a degree in Mass Communication at a University she is yet to identify Nakabugo Qualifiers to hang at Kawempe Muslim's Wall of Fame.
Football Journey
This girl child to SG Tumuhimbise Jackline, called to her mind a football potential in her during the infant age. Going with her brother Byaruhanga Ronald to different grounds in Bombo, Nakabugo's interest confidence and basics as goalkeeper gained momentum. However, she quickly switch into an outfield player.
"My older brother [Byaruhanga Ronald] inspired me to play football, by then I was living with him since mum was living in town, so we had close relationship, and he couldn't move without me." Nakabugo narrates the start of her journey.
"He was a very good player, though they were playing super tele balls, in due course I picked interest and asked him also to select me in his team, which he did but put me goal." She added.
Nakabugo's interesting story doesn't differ from that of kids who used to own balls and select the best to be at their side. Mariam promptly demanded her mum to buy her biscuit, but after picking love in football, the desires changed, and she started asking for a ball.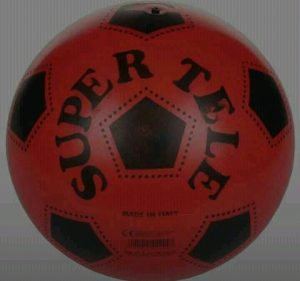 "The love for football continued to develop, and instead of asking for biscuit from mum, I started asking for a football until she bought us a tango and we elevated from super tele. So since the ball was mine, I told my brother, if you want to play with my ball, you must get me out of goal and I play upfront which they accepted since I was the boss." She narrates.
From playing community football, Nakabugo first saw the light of the day into her organized football with UPDF Women Football Team in the Barracks around 2010.
"Our neighbor commonly known as Maama Kirabo, was a UPDF Women Football Team Staff, whom I used to go with at the pitch but as a baby sitter to her child. However, I eventually asked the team coach to give me a platform to which he did. I surely don't know where I got the football I showcased that day. I was very exceptional on my first day that I impressed the coach by first sight". She said.
During my stay at the club, Winnie Babirye, currently at Tooro Queens, joined the club. Mariam describes Babirye as a sublime talent at the club then, "Oh my, if the Babirye of then meets the current, the emergency of a fight is inevitable!!!!!".
Nakabugo from childhood was a top dog, and at primary level, Lugoloobi, the now the director of Luweero Giants WFC formed a Select team for Luweero district which comprised of Nakate Cissy, Nakibuuka Asia among others, Nakabugo was a skipper.
From there, Nakabugo with much support from her mother and older brother, continued with her football and she started getting bursaries paving her way to Lukomera Primary School and St Julian Junior School for P.6 and P.7 respectively.
In 2014, Nakabugo joined Kawempe Muslim after Ayub picked interest in her in a friendly Kawempe had with Luweero Select Team in 2013.
"I was to join St Julian secondary but in that year [2014], girls football was banned so Tracy linked up with coach Ayub and my brother and persuaded me to join Kawempe and I was the first new player to arrive at Kawempe even before the term started." Nakabugo.
Ayub converted Nakabugo from right wing to central defence where she finally perfected. Her penetration onto the senior side was in that very (2014) and she featured in the Nationals ball games held in Lira to became the second play in history of the school to don the school's jersey in S.1.
"In Kawempe's norm, it it's very hard for a form one kid to be on a senior team, but I don't know whether I was just lucky to make a quick cut into the team while in form one and I played in 2014 USSSA Ball games held in Lira. Since then, I have been a regular figure on the team until I completed my form six last year." This was new to our reporter, so he took a step to look for me", she said.
"By the time she joined, her game maturity was far better compared to others we had before and she was so passionate about the game, actually her and Sandra Nabweteme are the players I recall who cut into the senior team in S.1," Said Ayub Khalifah.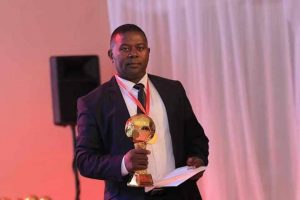 Nakabugo also became the first Ordinary level student to get a responsibility of a captain, she acquire the captain armband during her S.4 receiving it from Hasifah Nassuna in 2017.
"At school we always get sports party in second terms of academic years, so during the speech time, coach Ayub announced me as the captain, I wasn't expecting it because I was still in form four and the norm was its only advanced level students to lead."
In the six years she has spent at Kawempe, Nakabugo revealed that her partnership with late Adubango Rehema (RIP) was the best at Kawempe, both at school and club.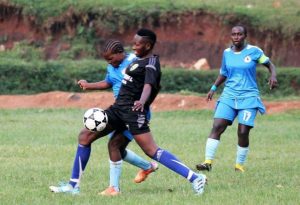 "I don't think that there will be someone who will understand me like Adubango, she was a good partner and a friend, we used to say that today by all means we allow no ball in our goal and indeed it used to be like that and surely I miss her, may her soul rest in peace." Emotional Nakabugo revealed.
The 2018 Most Valuable Player (MVP) in East Africa championships held in Musanze Rwanda, dreams to be one of the football icons, the future footballers will refer too.
Profile
Name: Nakabugo Mariam
Nickname: None
Date of Birth: 23rd, March, 2000 (20 years old)
Place (Hospital) of Birth: Bombo Barracks Medical Hospital, Luweero District.
Place of birth(Village): Bombo, Luweero District.
Parents: Late Kamya Adam and Lieutenant Tumuhimbise Jakline, resident of Bombo, Luweero District.
Position: Defender.
Strong foot: Right.
Weight: 65kg.
Height: 151 cm
Shirt number: 17
Current club: Kawempe Muslim Ladies FC
Previous clubs: UPDF Women
Role model: Hasifah Nassuuna (UCU Lady Cardinals)
Credited persons: My Family, Ayub Khalifa Kiyingi and his coaching staff, Coach Lugoloobi.
Achievements: (Individual)
2018- Most Valuable Player (MVP), FEASSSA Games held in Rwanda
With Club/ School;
Four Elite league titles [2015,2016,2017,2018]
Best players played with: Sandra Nabweteme (currently at Southwestern Oklahoma state University), Namuddu Viola (Makerere University WFC), Aturo Ruth (UCU Lady Cardinals), Adubango Rehemah(RIP), Tracy Jones Akiror (USA) and Hasifah Nassuna (UCU Lady Cardinals).
Likes:
Dish: Rice and Fish.Hobbies:Listening to Music.
Youth career:
2012: Lukomera Primary School Luweero
2013: St Julian Junior School Gayaza
2014-2019:Kawempe Muslim Secondary School
Senior career football:
Club football
2015-Todate: Kawempe Muslim Ladies
National team:
Two national teams calls, U20 and Senior national team The Crested Cranes.
No cap yet.
About Author