SC Villa, Ecopharm Enter Into Shs 2.4Bn Partnership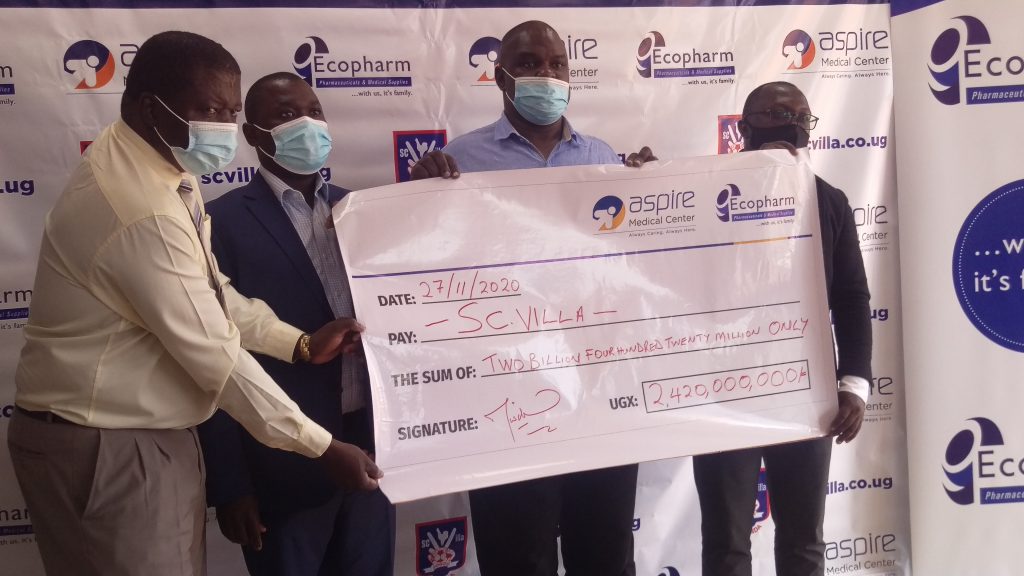 In their journey of rejuvenating Uganda's leading football Club in terms of winning, the management Sports Club Villa is doing all it can to bring back the club's lost glory.
On Friday, 27th November 2020, the club has entered into medical partnership with Ecopharm worth over 2.4 Million Uganda shillings and set to run for five years.
The deal that brought the second partner to 16-time league champions, SC Villa before the commence of 2020/21 season was officially launched at the Pharmacy's branch at Kansanga- Next to Absa Kampala.
While speaking to media after launching the 2,420,000,000 billion shillings deal, the Founder and CEO of Ecopharm Idd Iwumbwe revealed as to why they decided to deal with Villa not other clubs in Uganda.
"SC Villa is the only club that is rejuvenating in terms of structure and the like, it's the club that came to us and we saw it as an opportunity." CEO Iwumbwe revealed.
"The club is on journey of making football a serious business, it's true, now we are already members. As a company we are going to tackle all healthy issues of the players, officials and their immediate family members." CEO confirmed.
Mubiru Shawn, SC Villa CEO, said that this deal is one of those that going to offload burden to the club and he asserted that the 2.4bn deal will be in kind.
"In cash or in Kind is a good question but all remain the same because because again we have been paying medical fee, this is a service to our team.
We are satisfied with this partnership, this will cut across all our players and officials, both at senior team and junior." Mubiru Shawn, SC Villa CEO said.
In this deal, Sports Club Villa shall be getting medication worth over 400 million per year.
The club fans shall also benefit in this partnership especially those registered fans. Any Villa fan shall be getting a discount of 8% on each product bought from Ecopharm branches.
Ecopharm joined Ultimate Fitness Gym Kampala who also went in partnership with Villa for three years in a deal worth over 400M.
Who is Ecopharm?
Ecopharm Limited is a leading private chain of pharmacies registered with National Drug Authority, it started in 2008 by a Ugandan visionary pharmacist.
It has 14 branches in Uganda and its main is at Bukoto.
List of their branches.
Ntinda next to Life Link Medical Center
Capital Shoppers- Ntinda
Ntinda Apex Building
Makindye next to Shell Petrol Station
Kibuye Zion Building
Bugoloobi Krish Mall
Tropical Complex opp Hotel Equatorial
Luwum Street near Bata
Kisaasi, Yusuf Arcade
Mulago Hospital opp Paramedical school
Kiruddu hospital, Private Pharmacy
Nalya – Mogas petrol station
Kingdom Kampala 
Kansanga – Next Absa
About Author