Sam Simbwa, Sadat Anaku win UPL Pilsner awards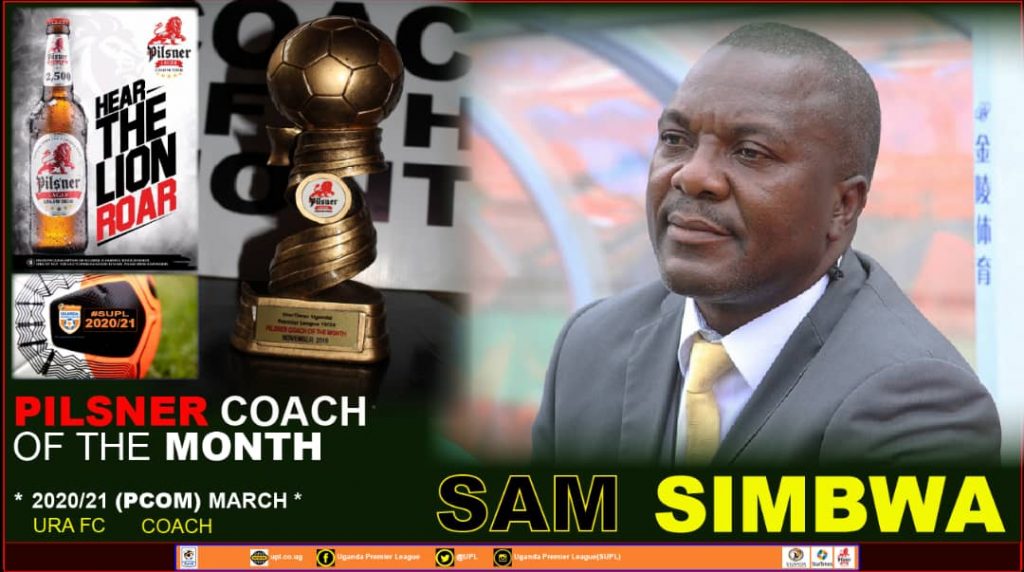 Uganda Revenue Authority football club (URA FC) tactician Sam Simbwa and Sadat Anaku are name coach and player of March in the UPL Pilsner awards.
Simbwa whose URA FC won five in five Uganda premier league games, conceding only once and scored ten times which give an average of two goals scored per game beat counterparts Abbey Kikome of Busoga United and Express FC's Wasswa Bbosa to be crowned.
Busoga's Abbey Kikome won four of his six games to correct 12 points out of the 18. He lost 1-0 and 4-0 to Express FC and KCCA FC respectively.
Wasswa Bbosa was in charge of five game where he managed three wins, a 1-0 loss to UPDF FC and a goalless draw against Kyetume.
"It's a success achieved out of team work and hard work. My technical team, players are management have a great hand in this." Sam Simbwa.
In the player of the month category, KCCA FC's young star Sadat Anaku best on form Steven Mukwala of URA and Busoga United's Ssozi Shaka to be crowned.
Sadat Anaku scored six times in five games for KCCA FC whilst including a memorable hat-trick against Busoga United.
Whilst Mukwala was directly involved in six goals out of URA's ten, scoring five times and an assist to extend his goal scoring tally to a double a figure (10 goals) and guided URA to the table summit.
His performance, earned him (Mukwala) and his coach Sam Simbwa the best fans player and coach of March awards from MTN.
Shaka Ssozi netted thrice for Busoga United in March.
"I feel excited for winning to this award despite coming in to play for KCCA in that particular month after being halted for long due to licensing issues." Sadat Anaku.
The UPL Pilsner warding ceremony was be held on Thursday 15th April 2021 at Kati-Kati restaurant in Lugogo, Kampala. Both winners walked away with 1,000,000 Uganda shillings.