OBB Volleyball club unveils super star Lawrence Yakan Guma as new head coach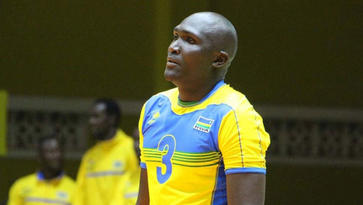 National volleyball Serie A league outfit Orange Block Buster officially unveiled a Uganda-Rwanda born super star Lawrence Yakan Guma as new club's head coach alongside a crop of new players ahead of the 2021 season.
The former Rwanda National Volleyball team skipper, Lawrence Yakan Guma took a step into coaching on 6th January 2020 as an assistant coach at Gisagara Volleyball Club in Kigali shorty after his stint in Japanese volleyball fraternity.
Yakan worked with Gisagara as a coach player, under the appointed head coach Joseph Ndahiro who came in as replacement for the fired Marshal Pierre Kwizera.
Gisagara has in the past been home to Ugandan International, Ivan ongom.
Ongom has now moved on to Rwanda Energy Group after a stint in the Bulgarian league in 2018.
Gisagara finished in 4th position last season but the club fans and management were not impressed after having expected the club to contend for the title.
At OBB volleyball club, Yakan joined alongside a crop of new players including Rajabu Kimera from Ndejje University, Ellaija Cosmas (Wazeyi club in Fortpotal), Silva Modech Atta(Sudanian) from Nkumba University, Rwandan national Davies Attama (Rwanda Energy Group), Hussein Adom Juma (Nkumba University) and Jimmy Kakuru (Mbarara University).
The development was confirmed on Wednesday 14th April 2021 in a press conference held at the club's home facility Shukuran Complex in Jinja.
Lawrence Yakan who ranks among the best in East and central Africa joins the club with a host of experience and expertise as a player and coach in the game.
During his unveiling, Yakan vowed to passionately lift the club's flag to international standards. He however, asked for better cooperation, high levels of professionalism and discipline between the players and management.
The club President Muhammad Bagalaliwo Musilim reveled that the current club's target is to be the best volleyball club in Africa and this became a major reason to tone the squad with new quality signings since majority of the players are on the national volleyball team.
"I want to appreciate and make awareness to the country today that volleyball in Uganda is one of the internationally played games which climbs standards everyday.
We are appreciative and happy to unveil a big fish in coach Yakun who has been in volleyball folds at all levels. He skippered the Rwanda National side and registered success both locally and internationally.
He is one of the admired coaches across the region and he will be of great importance to us.
His experience and passion will never leave us the same in the sport. We hope he will push for our local and international repute during his stay and with him the sky shall be our limit." Bagalaliwo.
The club Chief Executive Officer Henry Bazira said Orange Block Busters have come a long way and are currently more stronger than before therefore are to give the best with the addition of new members.
"We ready for several tournaments and the national volleyball league to be played soon and we believe in total victory under the sponsorship of Shukuran Real Estates.
The club has played very competitive volleyball for the last 5 years and reached the national standards amidst several challenges." He said.
The club director who is also the Director Shukuran Real Estates and currently serves as the First Vice-president Uganda Volleyball Association Ahmed Kigundu expressed determination to improve and promote volleyball in Busoga region.
"I'm very determined to improve and promote the volleyball in the region and very soon before September the Shukuran Camp center will ready for use to host games at all levels as home ground of Orange Block Busters.
This Shukuran facility will be one of the best in East and central Africa with several indoor sports activities hostable." Kigundu.
Kigundu further called upon government and National council of sports to extend more support to volleyball if many talents shall benefit being one of the best in this generation.
About Author