Refreshment Support: Crown Beverages Donates 400 Cartons Of Water To U17 Team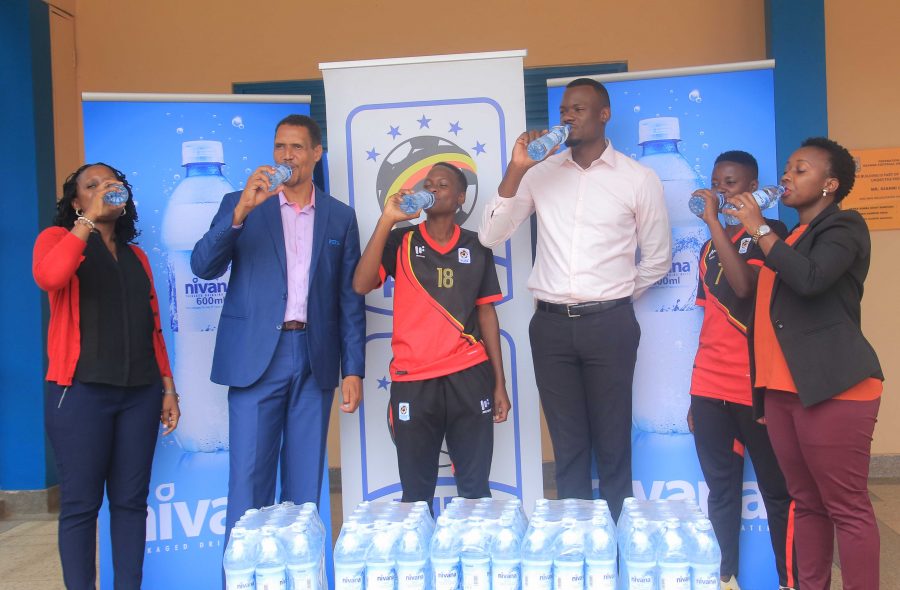 By: Kayiira Jackson
Crown beverages Limited, the manufacturers of Pepsi products, via Nivana water donated 400 cartons of water to Uganda U17 women's football team that is in residential training Camp preparing for FIFA World Cup U-17 qualifier doubleheader fixture against Cameroon.

FUFA CEO Edgar Watson on Tuesday at FUFA House Mengo was the top head to receive the part of the offer from Nivana Water Brand Manager Ernest Ssentongo.
U17 stars Fauzia Najjemba and Juliet Nalukenge not forgetting their head coach Ayubu Khalifa also witnessed the handover ceremony.
The support came as a boost to the team the is aiming to qualify to the maiden FIFA Women's U-17 Cup finals to be held in India in 2021.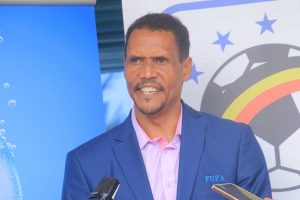 "Football needs partners to grow. We are very grateful to have Nivana on board and identifying with our Marketing Department and these talented players. Hard training needs refreshments and that is why we are glad to have Nivana Water join us" said Edgar Watson.
Nivana Brand Manager Ernest Ssentongo while handing over the package, he  expressed his gratitude to FUFA for availing opportunities for Nivana and other CBL brands to give back to the community and promised a long strong partnership going forward.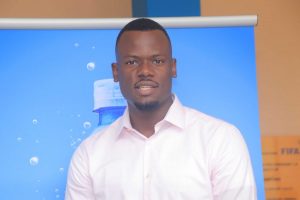 "We wish the U17 Women the best of luck in their upcoming games and this donation is a token of our appreciation for the partnership with FUFA and our joint desire to see Ugandan football prosper" He said.
This is the first ever kind of support from Corporate Companies to directly support Women Football National teams.
The U17 national team entered residential training Camp on Monday as they prepare for the first leg of FIFA Women World Cup qualifier doubleheader against Cameroon in early November 2020.
Thirty players were summoned to the camp.
The Full Squad
Goalkeepers
Daphine Nyayenga- Uganda Martyrs High School
Joan Namusisi – Isra Soccer Academy
Zulaika Ngamita – Asubo Gafford Ladies
Defenders
Grace Aluka – Kawempe Muslim Ladies
Samalie Nakacwa – Kawempe Muslim Ladies
Sumaya Komuntale – Tooro Queens
Bira Naddunga – Olila High School
Gillian Akadinda – Olila High School
Gloria Namugerwa – Uganda Martyrs High School
Stella Musubuka – Kawempe Muslim Ladies
Patricia Akiror – Ajax Queens FC
Midfielders
Winnifred Kwatulira – Jinja United FC
Devine Mirembe – Asubo Gafford Ladies FC
Shamira Nalugya – Kawempe Muslim Ladies
Shakira Nyinagahirwa – Kawempe Muslim Ladies
Kevin Nakacwa – Uganda Martyrs High School
Moreen Nangonzi – Ajax Queens FC
Ruth Nyakato – Tooro Queens FC
Sumaya Kyomuhendo – Isra Soccer Academy
Sumaya Tibazalika – Sumaya (Wakiso)
Forwards
Juliet Nalukenge – Kawempe Muslim Ladies
Zaina Nandede – She Kataka FC
Fauzia Najjemba – Kampala Queens
Hadijjah Nandago – Kawempe Muslim Ladies
Margaret Kunihira – Kawempe Muslim Ladies
Catherine Nagadya – Uganda Martyrs High School
Zaitun Namaganda – Taggy High School
Eva Nagayi – Rines WFC
Kamuyati Naigaga – Taggy High School
Brenda Munyana – Uganda Martyrs High School
Officials
Ayub Khalifa – Head coach
Hadijah Namuyanja – Assistant coach
James Magala – Goalkeeping coach
Oliver Mbekeka – Trainer
Stella Nankumba – Team Doctor
Joan Namusisi – Team coordinator
Cissy Nakiguba – Kits Manager
Steven Mayamba –Media Officer
Chrizestom John Kalibbala – Leader of Delegation
About Author