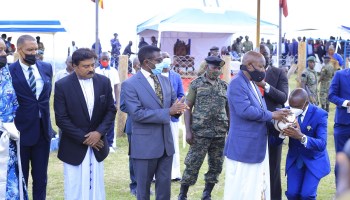 The Minister for Sports, Youth and recreation in Buganda Kingdom Owek. Henry Ssekabembe Kiberu calls upon all Baganda to come in numbers and grace Bika football competition final.
"As we congratulate you for a successful end of Masaza Cup season, it's the right time to remind you that we first became Baganda to belong to respective counties.
"It's our responsibility as grandsons and daughters of Nambi and Kintu to know that Buganda's back bone is the clans (Bika). Our clans reflect who we are right from origin, norms and the rich culture we hail from.
As we came in numbers for Masaza Cup final, we have an obligation to double the figure and fill Wankulukuku for the most valued tournament which reflects much more about us.
As the saying "ours is ours but mine is mine" goes, this should start right from the clan chiefs to family levels in oneness as Baganda to embrace this year's finals.
Let drop the hearsay "Bika football competition collapsed", it's our noble responsibility to revive the glory of what belongs to us and you turn up will speak volumes for the future". Owek. Henry Ssekabembe Kiberu.
This edition's (2022) Final will be played this Saturday, 11th March at Muteesa II Stadium in Wankulukuku.
Ndiga and Lugave will face off in football as Ngeye will tussle it out with Mamba Gabunga in the netball final.
Lugave clan eliminated Kkobe 4 -2 on aggregate in the two legged semi-final while Ndiga proceeded to final on aggregate 5-3 against Ffumbe.
Meanwhile, the third place playoff see Kkobe and Ffumbe lock horns on the same day, earlier before the final.
In Netball, Ngeye meet  Mamba Gabunga in the Final as the two sides will fight for glory.
Lugave and Nyonyi Nyange will lock horns in the third place playoff.
Football winners will smile home with UGUGX. 9,000,000, runners up UGX. 7,000,000 and third place team will walk home with UGX. 4,000,000.
The netball champions shall get 7,000,000, runners up UGX. 5,000,000 and the third team will take UGX. 3,000,000.
This season's top scorer and MVP shall be awarded with UGX. 300,000 each.
BIKA FOOTBALL PAST WINNERS
1950: Mbogo
1951: Ngabi Nsamba
1952: Mmamba Gabunga
1953: Not Held
1954: Not Held
1955: Kkobe
1956: Mmamba Gabunga
1957: Nyonyi Nyange
1958: Ngeye
1959: Mmamba Gabunga
1960: Ffumbe
1961: Bbalangira and Kkobe
1962: Nkima
1963: Not Held
1964: Mmamba Gabunga
1965: Mmamba Gabunga
1987: Ngabi Nsamba
1988: Lugave
1989: Mmamba Gabunga
1990: Lugave
1991: Ngeye
1992: Ngeye
1993: Nkima
1994: Mmamba Gabunga
1995: Lugave
1996: Mpindi
1997: Nnyonyi Nyange
1998: Lugave
1999: Lugave
2000: Mpologoma
2001: Ngo
2002: Mpologoma
2003: Mmamba Gabunga
2004: Lugave
2005: Ffumbe
2006: Mpindi
2007: Ngabi Nsamba/Mpindi
2008: Kkobe
2009: Ffumbe
2010: Nte
2011: Mmamba Gabunga
2012: Ngeye
2013: Ngabi Nsamba
2014: Mmamba Gabunga
2015: Mbogo
2016: Nte
2017: Nte
2018: Nkima
2019: Mbogo
2020: Not Held
2021: Not Held
About Author