Olympic Qualifiers: No place for captain Nasuuna, Aturo, Nabweteme as interim coach Charles Ayieko summons Crested Cranes squad for Cameroon tie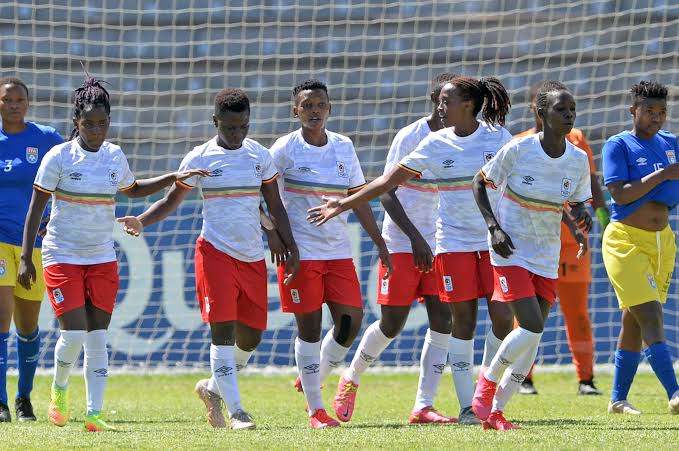 Crested Cranes interim head coach Charles Ayiekoh Lukula has summoned a 32 man squad for the Paris 2024 Olympic Games qualifiers.
This is a CAF 2nd round tie against Cameroon. Uganda eliminated Rwanda by 4-3 on aggregate.
Uganda will host the first leg on 26th October, 2023. The game will be held at FUFA Technical center in Njeru.
The return leg will be just 5 days later in Douala on 1st November.
Three regulars including captain Hasifah Nasuuna, Ruth Aturo and Sandra Nabweteme were dropped.
Full squad:
Goalkeepers
Karungi Vanessa (FC Nordasjaelland,Denmark)
Nakaziro Daisy (Kampala Queens)
Namakula Gloria (Kampala Queens)
Adeke Juliet (Kawempe Muslim)
Kaidu Sharon (Uganda martyrs HS Lubaga)
Defenders
Kobusinge Jolly (Kawempe Muslim SS LFC)
Nankwanga Shakirah (Kawempe Muslim SS LFC)
Nakibuuka Asia (Kampa Queens FC)
Komuntale Sumaya (Kampala Queens)
Nankya Shadia (UCU Lady Cardinals FC)
Nabisaalu Bridget (UCU Lady Cardinals)
Lwalisa Dorcus (Olila High School WFC)
Akiror Patricia (Kampala Queens FC)
Natooro Desire Katisi (Asubo Gafford Ladies)
Midfielders
Nabirye Joan (FC Minsk, Belarus)
Nalugya Shamirah (Kampala Queens)
Ndagire Josephine (Kampala Queens)
Nabbumba Phiona (Boldklubben AF 1893, Denmark)
Nanziri Rhoda (Kawempe Muslim SS LFC)
Nababi Amina (Rines SS WFC)
Namaganda Zaitun (Wakiso Hill WFC)
Strikers
Ikwaput Fazilah (Kampala Queens)
Kunihira Margret (Kampala Queens)
Najjemba Fauzia (ZFK Dynamo Moscow, Russia)
Ainembabazi Joanitah (Simba Queens, Tanzania)
Nambi Violah (Pomgliani Women, Italy)
Nagadya Catherine (Kampala Queens)
Namata Anitah (Vihiga Queens, Kenya)
Nakigozi Elizabeth (Kampala Queens)
Kivumbi Ritah (Mallbackens, Sweden)
Nandede Zaina (Kampala Queens)
Lilian Mutuuzo (Kampala Queens)
About Author