Goals galore as SLAU are crowned National Beach Soccer league champions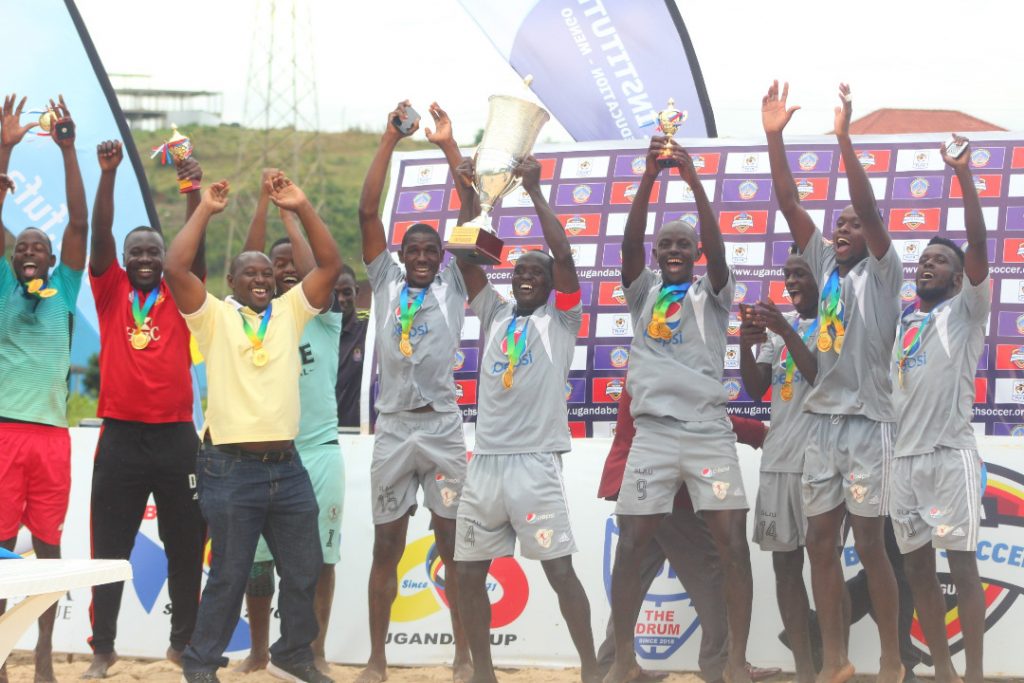 Full day results
Entebbe Sharks 5-7 Kiringente
Buganda Royal 7-5 Mutoola
MUBS 3-7 St Lawrence.
It rained goals at FUFA Technical Center in Njeru during the final day of the famous Uganda National Beach Soccer league.
In the opening game of the day, Kiringente beach soccer club got off the mark with a 7-5 win against Entebbe Sharks to ensure their first win in 10 games of the season.
Elsewhere, Buganda Royal beat Mutoola 7-5 in game two to consolidate the 2nd position at the end of the season.
The final game of the season saw MUBs parade a guard of honor to the eventual 2020-2021 Uganda beach soccer league champions St. Lawrence University.
St Lawrence University entered in the league's final game as confirmed champions following their smart form throughout the league which started on Thursday 8th April 2021.
During their journey to the championship of the league played in a gala format, SLAU won 9 and lost one of their ten games to gather 27 points out of the possible 30.
The 8 day league was presented on a home and away format amongst the 6 teams in the league.
Champions St Lawrence University lost just a game in 10 games against runners up Buganda Royal, a game which ended 5-4 in the first round of the league.
In second round of the league SLAU bounce back stronger to stage a revenge in a memorable 4-2 win which decided the league fate.
SLAU finished the league with 27 points which is five clear off second placed Buganda Royal who registered 22 points.
As champions of the 11th edition, SLAU were the most scoring side (78) goals out of the 351 total scored in a season, and also registering a double figure score on three occasions 13-7, 12-2 against Entebbe Sharks and 14-4 over Mutoola, becoming the most goals conceded by a team in a single game while the overall most conceding team was Entebbe Sharks who swallowed a record total of 93.
SLAU also became the only team in this year's league to keep a clean sheet which came in their second last game against Mutoola which ended in a 2-0 score line.
Lanky striker Swalleh Ssimbwa was highly instrumental in SLAU's victory netting 30 times in 10 appearances. However, captain Suleiman Ochero, Bruno Bunyanga and Jonathan Kikonyogo were other exceptional figures for SLAU having been party to each and every game played by SLAU.
Honors
• 2020-2021 Winner: St Lawrence
• Top scorer: Swalleh Ssimbwa 30 goals. (SLAU)
• Best Goalkeeper: Ronald Mutebi (St Lawrence)
• MVP: Ambrose Kigozi (Buganda Rayal)
Season's Best five
Ronald Mutebi (SLAU), Kasujja Davis (MUBS), Rica Byaruhanga (SLAU), Ambrose Kigozi (Buganda Royal), Swalleh Ssimbwa (SLAU)
Best Coach: Davis Nono. (SLAU)
Fair play award : Kato Adam (MUBs)
25 Exceptional players for Sand Cranes
Nasser Rwamunda( Kiringente), Ronald Mutebi (SLAU), Twinamasiko Jowab( MUBS), Medi Kibirige (SLAU), Paul Lule (Buganda Royal), Devis Kasujja (MUBS), Douglas Muganga (MUBS), Kikonyogo Jonathan (SLAU), Lubega Sharif (Buganda Royal), Hasan Ali Luboyera (Buganda Royal), Ismael Kawawulo (MUBS), Ochero Suleiman (SLAU), Baker Lukooya (SLAU), Sharif Apuuli ( Mutoola), Emmanuel Wasswa (MUBS), Wanock Pati (MUBS), Ssekiti Faisal(Mutoola), Swalleh Ssimbwa( SLAU), Kigozi Ambrose (Buganda Royal), Kavuma Abby (Entebbe Sharks), Ronald Magwali (Buganda Royal)
List of previous winners
2020-2021: St. Lawrence University
2019-2020 not awarded due to Covid 19.
2018-2019 :St Lawrence University
2017-2018 : ISABET
2016-17 : MUBS
2015-2016: Nkumba Select
2014-2015: MUBS
2013-2014: Kira Young
2012-2013: St Lawrence University
2011-2012: MUBS
2010-2011: Kabalagala Rangers
2009-2010: Braza Braza
2009: Club Tinka.
About Author