Mbale Open Table Tennis Championship: Stylish Ritah Nakumista, Jonathan Ssenyonyo fly high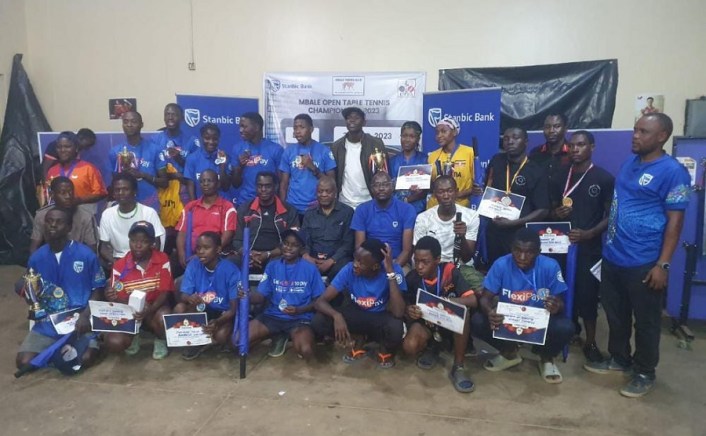 Uganda's Table Tennis finest Ritah Nakumista beat Halimah Astoola  of Mbogo College by 3-2 sets to retain the 2023 Mbale Table Tennis crown.
The epic final was held on Sunday, 5th February at Namakwekwe Social Center in Mbale.
The Mbale Tigers Table Tennis Club maestro Ritah Nakumista's prowess overwhelmed Halimah Astoola to surrender as the slim 3-2 score separated Uganda's two top notch talents
On her road to the final, Ritah Nakumista eliminated Kenya's Lisa Wele in quarter-final before outclassing Ludia in a semi-final master class display to book a final date with Halimah Astola.
The female champion walked away with a trophy  and four hundred thousand Uganda shillings (UGX 400,000), as the runner up took home two hundred thousand (UGX 200,000).
In males singles category, Jonathan Sseyonga  (Mbale Tigers) was too strong for St. Andrew Ssanda's  Juma Wabugoya in final.
The Mbale Tigers' man eased past Wabyona in a 3-1 classic score to win the men's singles Gold medal.
The event was graced by Robert Jjagwe, the president of Uganda Table Tennis Association (UTTA) who was Chief guest.
In his address, Jjagwe cautioned  players on indisciplinary cases as he confirmed UTTA to have no room for misconduct in the sport.
"UTTA shall shortly convene a meeting with our National team Coach and come up with a list of the best eight (8) performers at this championship.
These will later feature in the National league for qualifiers to represent Uganda in Djibouti early this March and a tournament in Kenya  Nairobi later in May.
However, discipline shall contribute a big part on the players progress. As UTTA, we have no room for indiscipline."
The championship attracted over one hundred players from different clubs across the country and the neighborhood specifically Kenya.
Prizes
MVP Boys
Sentongo Malcolm ( mbogo)
MVP  Girls
Nabulundera shamim( tigers)
Men's singles
Winners- Jonathan Ssenyonga ( mbogo)
Runner's up- Juma wabugoya ( Mbale tigers)
Ladies singles
Rita Nakumitsa (Tigers)
Astolo Halima (mbogo)
Men's team
Winners-Mbogo A
Runner up -Mbogo B
Ladies team
Winner-Mbogo College
Runner's up Mbale Tigers
Boys  U18
Winner -Juma wab
ugoya ( Tigers)
Wasswa kikomeko ( Mbogo)
Girls U18
Winner-Swabrra Namiiro( Mbogo)
Runner's up – Astola halimah   (Mbogo )
Boys U12
Winner -Mukisa Joreme( slum pingpong)
Runner's up -Muduku Shaquru ( Tigers)
Girls U12
Winner-Nabulundera shamim ( Tigers)
Runner up-Prisca mugerikye( slumping pong)