History Of Women Football In Uganda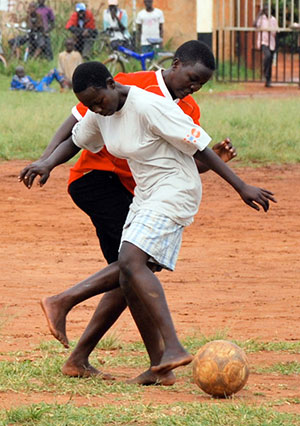 Compiled By Jean Sseninde
Women's football in Uganda started in the 1990s…1994 to be exact. Maama Becca Kazibwe an Express FC fan had a plan to get women fans, who rallied behind the Red Eagles, to play against each other.
A match between Villa and Express FC fans was thereafter held. Ex-Cranes player, Moses Ndawula coached Express FC. He worked alongside Maama Beeca, the owner of Express FC.

People picked interest in the game
and mobilised the community to start women football teams. Ndawula and Nsereko Sam, a former coach of Posta FC, were the first coaches of the of Kampala Women's team.
Bukenya a nurse at Mulago hospital and Senga Margret were administrators of the team, which was started by Maama Beeca. Soon, members from various communities formed other teams.
A Women's Select Team called in 1994.
Randomly selected players from various places travelled to Kenya two times. The first team of players came from Kiyindi, Kisoga, Mbarara and Kampala.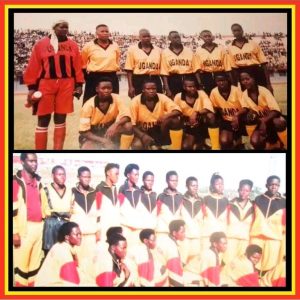 The players, who were cherry-picked included team captain Oliver Mbekeka, Nakintu Robina from Kisoga, and Nanvuma from Kisoga who was nicknamed Baggio.
Then there was the pair of Jane Namukasa and Luwedde Fatuma who both hailed from Kajansi and were brought to the team by the community fans. Other players included Rebecca Nakatte, Katenda Agnes, Namukasa Hadijah, Musomesa Yunia Wakabi, who was a teacher by profession was named the first captain, Rehema Namatovu who was the goalkeeper, and Namata Agnes.
Kenya then came to Uganda to play a series of matches.
These matches attracted fans across the country, which made more people believe that women can play
football. This led to the introduction of club football. Clubs that were started included Kampala Women's Football Club. The club was owned by Maama Beeca, with Ssali Paul the coach. Another club was Jinja Napia women's club.
It was started by the people in Jinja community. On its part, Jinja Market FC was formed by market people in Jinja town. Elsewhere, Mbale women's football team, which was owned by the wife of the town clerk, was also formed with the support of the people in Mbale town. Kisoga, a small village in Buikwe, formed a club called Kisoga FC. Kiyindi was also another club that was formed. It had players like Aisha Semambo who is now a referee.
Another team formed was Entebbe Ladies which was owned by Mariam Nsumba the second manager of the national team in 1999. Nsumba replaced Kyambadde in 1998.
Mbarara women's football club was owned by the late Hajji Abus Sendyowa, a former referee and CAF football assessor. Lweza women football club which was a community club was also formed. Then there was also Muswangali Football club, a community entity that was located on Salama road.
THE FIRST UGANDA WOMEN'S NATIONAL TEAM WAS CALLED IN 1998:
These Clubs started to play against each other in 1997 in friendly matches. All these clubs combined were used to select the first-ever women's national team in 1998.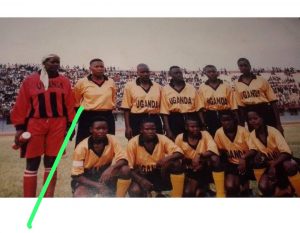 The team spent a month undergoing non-residential training at Nakivubo War memorial Stadium In 1998. Kyambadde was the first team manager of the Uganda Women's Team.
The federation was keen to put together a team to take part in the African
Women Qualifiers. Players selected included goalkeeper Rehema Namatovu from Kampala Women, Nagawa Sylvia, Nakintu Robina, Namata Agnes, Nantanda Majidah, Mbekeka Oliver, and Annet Nakinbugwe. Others were Fatuma Luwedde, Wakabi Yunia, Jane Nanjekye, Apolot Doreen, Nabakka Madina, Fatuma Manashe, Nakatte Rebbecca, Alaisha Nakanwagi and Odua Juliet, and others.
The team manager was Haji Kyambadde, with Paul Ssali named head coach. Maama Becca Kazibwe was a team
official and Ojuku katamba from the Federation of Uganda Football Associations (FUFA) was named the team coordinator and leader of delegation.
The game against Egypt was played in Alexandria and ended a 1-1 stalemate. Uganda's scorer was Jane Nandukye.
Uganda though was eliminated after losing the return game 1-0 at Nakivubo Stadium.
THE CREATION OF THE FIRST WOMEN'S LEAGUE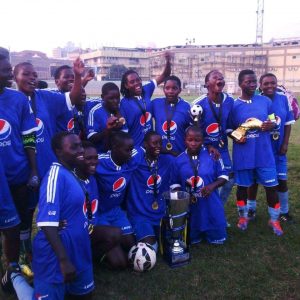 After that match women football grew in stature across the country. Owners of club teams got more serious about supporting women's football and suggested the start of a women's league.
This was supported by the community members, with the league starting in 1998/1999.
The Federation of Uganda Football Associations (FUFA) had knowledge about this league though it never financed the league due to lack of funds.
The FUFA president by then was Twaha Kakaire.
Only one half of the league was played
because club owners waited for financial support from FUFA in vain.
Some clubs facilitated their players like Kiyindi Women's club, Kisoga Women's club and Jinja Women FC.
After 1998, FIFA started giving grants to Member Associations and started with the ones a who had national teams. The Uganda national team then travelled for various matches and tournaments with Kenya women's national team. In 1999, Maama Becca was side lined by FUFA from women's football and wasn't involved in women's football.
The Federation president then was Denis Obua.
In 1999, the Uganda women's national Team was summoned the second time to play against DR Congo in the 2000 Africa Women's Qualifiers. The team trained hard, but the game didn't take place. The visiting team was a no-show due to a political conflict.
This meant that Uganda automatically qualified for the AWCON. Sam Timbe was appointed head coach and a new manager in Mariam Nsumba was appointed. She consequently became the first woman team manager. Majidah Nantanda was selected team captain and Oliver was the field captain.
In 2000, the team went to Durban, South Africa for AWCON. Uganda played against hosts South Africa and lost 3-0. The team then shared the spoils with Zimbabwe in a six-goal thriller.
The match against Reunion ended 2-0 in favour of Uganda. The Uganda women's national team which was also called the She Kobs were consequently ejected at the group stage.
Despite the early ejection, the performance that was displayed in South Africa helped Ugandan women's football boom.
Yet after the 2000 players found themselves idle as there was no women's league. Most players moved to Kampala to get a chance to play both for club and national team.
The famous Kampala United Women's team was formed led by coach Ssali.
In 2002, the national team played another AWCON Qualifier against Ethiopia. After picking up a 1-1 draw away from home, Uganda was ejected after losing the reverse fixture 3-2. Uganda. They played the first match ever at the Mandela National stadium
in Namboole.
Between 2002 and 2004, Kampala United travelled and played against different men's teams and was nicknamed the She-Kobs.
All players were training in one location
Settlement in Kampala. The team became defunct in 2009. In 2005, the AWCON
qualifiers were cancelled due to lack of funds and priority was given to the Cranes who were going to play CECEFA. Due to women being without much to do, most of the players left for DR Congo in search of better playing opportunities. Some ended up playing and training for the DR Congo National Team.
THE START OF SCHOOLS FOOTBALL (2005).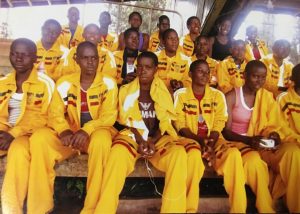 In 2009, the Under-20 national team was formed. School-going children were then
involved. New clubs were also formed. The U-20 team played against Rwanda in a Women's World Cup qualifier, drawing 1-1 at home before prevailing 2-1 on the road.
The team however failed to honour its next tie against Zambia due to lack of funds.
Mulindwa Lawrence was at the time president of FUFA. The coaching staff changed to a full technical team for the first time. Nantanda Majidah was appointed head coach, Ibrahim Mugisha was named the goalkeeper coach and Meddie Serwadda was appointed the team coordinator. Serwadda was one of the pioneers of school football
with Masaka S. S. This was further seen through team selection with most of the players being selected from Masaka S.S. The squad was summoned but the national team coach for the Cranes then coach Bobby Williamson helped to select the final team to minimise bias and complaints from the public.
Despite withdrawing from the U-20
tournament, more schools joined women's football.
In 2006 A Development officer was appointed for the first time. Hadijah Namuyanja served in that capacity until 2017.
2009 – 2011
Nothing much happened for women's football apart from the national team head coach visiting various schools to scout players. The Airtel Rising Stars was started around this time.
NB: After seven years without a national women's football match, the drought ended in 2011.
THE SENIOR UGANDA WOMEN'S NATIONAL TEAM WAS SUMMONED AGAIN IN 2011
Head coach Nantanda summoned a team of 50 players and trials were duly conducted.
Young players in schools were mixed with some older players who featured
in 1998. This was ahead of AWCON Qualifiers against DR Congo. Before that a friendly game against Egypt was played.
The name of the national women's football team was changed from She-Kobs to Crested Cranes for a fresh start or a new image. The women's football committee led by Mariam Kaliga, Chris Kalibala, Meddy Serwadda and FUFA Technical Director Asumani Lubowa and national team coach Nantanda came up with the name Crested Cranes.
The Qualifier match against DR Congo was played in Nakivubo and Uganda drew 1-1 with the goal being scored by Luwedde Fatuma. Uganda lost the away game 4-0 in DR Congo.
IDEA TO START OF THE WOMEN'S LEAGUE?
Between 2011-2013, the idea to start a women's league in Uganda was discussed but wasn't supported because there weren't enough girls to play in the league. Some top women football officials didn't support idea due to most clubs being school teams and most clubs available didn't have enough players.
Officials on the women's committee
were Ayub Khalifah, Chris Kalibala, Mariam Kaliga, Meddy Serwadda, and Nantanda Majidah.
In 2013, the U-20 girls' team took part in a WWC qualifier against South Sudan and won on an aggregate of 30 goals under Mulindwa's regime.
The team was withdrawn from
the qualifiers due to lack of funds. Right after, a new president Eng. Moses Magogo was appointed into office after Mulindwa resigned from his seat as president.
THE BIRTH OF THE WOMEN'S FOOTBALL LEAGUE IN UGANDA (2015)
When Eng. Magogo became president, the Women Elite League was started with 16 clubs.
The league mainly comprised education institutions. Only one club — Buikwe —
didn't consist of non-school players.
NOTE: between 2011 and 2016 there were no senior team national engagements.
CECAFA WOMEN'S FOOTBALL CHAMPIONSHIP (2016)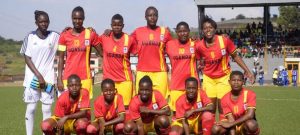 With the introduction of the league, players where scouted from the league, secondary school games, and the communities.
A friendly match against Kenya was played and Uganda lost 4-0. Uganda hosted the CECAFA Women's football tournament, which boosted women's football. Foreign-based players were summoned for first time in 2016.
In 2017, more clubs joined the league as supposed to schools.
CECAFA WOMEN'S FOOTBALL CHAMPIONSHIP (2018)
In 2018, the national women's team participated in the CECEFA women's
championship in Rwanda. Faridah Bulega replaced long-serving Crested Cranes head coach Majidah Nantanda.
In this same year the senior women's football was invited for the COSAFA tournament in South Africa and finished third.
2019
• In 2019, the U-17 national team was born, and it featured in COSAFA Girls
Championship in Mauritius, sweeping to success.
• The U-17 girls participated in the CECAFA girls challenge cup tournament, which was hosted In Uganda and were crowned champions.
• The U-17 also took part in the WWC qualifiers. (On hold due to COVID19
Pandemic)
• The Uganda Women's League was reformed to a clear tier system with the
introduction of the FUFA Women's Super League which became tier one. The
FUFA Women's Elite League became tier two and the Regional leagues tier
three.
KEY PERSONNEL
Maama Becca started the idea of women playing football in Uganda.
Coach Ssali is the first coach of the national team women's team.
Nkalubo was the first female delegate for Women and the chairman of the Uganda
Women's Football Association. (UWFA
 NOTE: THIS INFORMATION MAY NOT BE CONCLUSIVE, THERE COULD BE MORE INFORMATION.
SPECIAL APPRECIATION GOES TO ALL THE CONTRIBUTORS OF THIS
INFORMATION WHICH WAS NOT EASY TO COLLECT DUE TO LACK OF PREVIOUS RECORDS BEING KEPT
About Author