Star Profile: Karungi Vanessa Reveals Toughest Opponent As Narrates Her Football Journey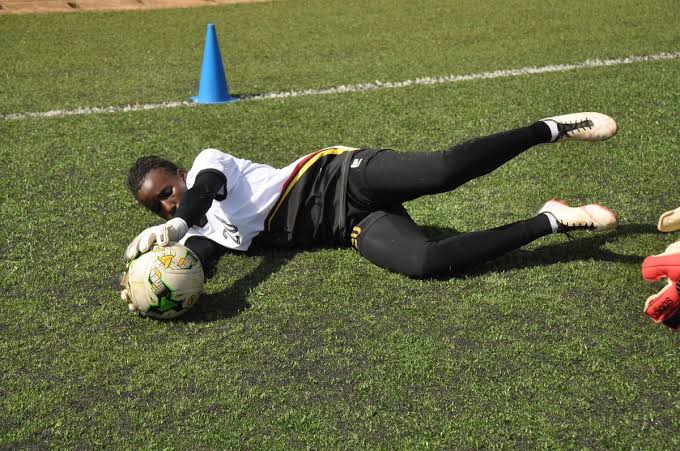 By: Kayiira Jackson
It's true the Pearl of Africa, Uganda is one of the few nations in world's football which are fully blessed with huge number of talented goalkeepers on the continent, but unfortunately the weighing scale sides more with male gender to female.

Since the game [Women football] became very serious in 2014, when the FUFA Women Elite league was introduced, few outstanding custodians football fanatics can tip that they were or are outstanding.
As it's Nim Sport's norm to expose the potential and ability of sports personalities to the outside world, the opportunity landed on She Corporates and Crested Cranes (second choice) custodian Karungi Vanessa Edith to exclusively narrate to the world about her football ordeal.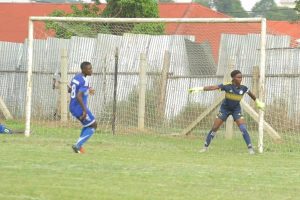 The beautiful and talented lanky posts keeper was born on 08th November, 1999 to Mr Byamukama Francis and Mrs Akello Betty Ellah, in Kabarole District, Fort Portal City, Bukwali Village.
The 2017 Inaugural FUFA Women's Cup winner with Olila High School is the sixth in a family of eight children, two boys and six girls.
Karungi who is good at game reading, defense organisation with leadership skills is ranked to be among the best two best goalkeepers in Uganda of recent and her head coach at She Corporates women football club asserts that if the girl multiply her efforts, she can easily unseat the current number one who is UCU Lady Cardinals and Crested Cranes first choice Ruth Aturo.
"She is naturally a gifted goalkeeper and to me if she changes her work ethics and give full commitment to her career, she can be the best before Aturo." Zzinda Ali, She Corporate tactician on Vanessa's abilities.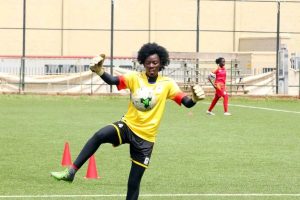 Since she joined football while at 12 years, Vanessa managed to taste the glory of the game when she won the 2017 Ball Games championship with Mukono High School, she won inaugural FUFA Women's Cup with golden gloves while at Olila High in the same year before she was named Uganda Sports Journalists Association (USPA) footballer of the year (Female). Among other benefits.
Education Journey
Vanessa sat her Primary Leaving Examination at St Jude Primary School Kyegobe from Kabarole District in 2011 before joining Kyebambe Girls in 2012 for her ordinary level education. Due to her talent in football, only two years were enough for the girl to say goodbye to village life.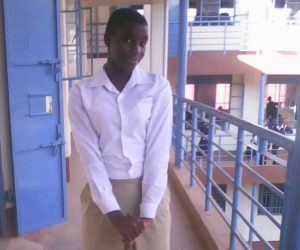 Vanessa then joined St Mary's Kitende for her form three in 2014 though she stayed there for a small stint and then joined Kakungulu Memorial where she acquired her Uganda Certificate of Education in 2015.
Karungi later went to Mukono High School where she pursued her two year Uganda Advanced Certificate of Education in Geography, Economics, Art and Sub mathematics (GEA/SM) which qualified her to have admission at Makerere University Business School (MUBS) where she pursing her Degree in Business Administration.
And currently, she is in her second year.
Football Journey
Nessa, as she prefer to be called, entered football world as early as 12 years while still in Primary, according to her she used to play with boys at home and the position they used to give her is goal posts, as the time went by, she loved the position not forgetting the inspiration she drawn from Manchester United goalie, David Degea.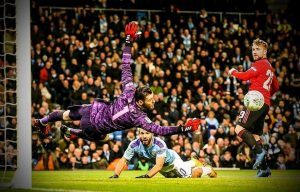 "I already had love for the sport due to the Man United and arsenal sagga by then ,so I could play football with my brothers at home in the compound and they used to send me to the posts the fact that I was a girl,so the goalkeeper of Man U noted David Degea made me love the game more" Karungi narrates the advent of her football journey.
After primary in 2011, the girl joined Kyebambe Girls in Kabarole for her form one, while competing in School's interclasses,her 'coach' (Games' Teacher), saw goalkeeping skills in her, in 2013 they represented the district (Kabarole) in Nationals (Ball Games) which were held in Mbarara where she got spotted by St Mary's Kitende.
"When I went to goal, I found things easy and in that year we qualified to Nationals, we played against Kitende and we conceded only three goals, so they saw potential in me, I went for trials and the following year I was at Kitende." she narrates.
Not like other parents, Vanessa's were so supportive from the start and in her narrations, the girl asserts that they even escorted her to Entebbe when she went for trials at St Mary's.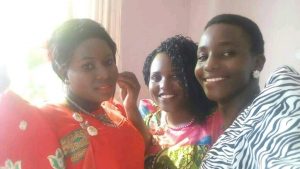 "My parents where very supportive because I remember my parents drove me to Kitende and had to wait for and see me playing."
Unfortunately St Mary's gotten unclear issues and in that year 2014, women football was scrapped off and she went to Kakungulu Memorial where she was again spotted by a topflight league club which is She Corporates, and played high school and Elite league football concurrently, after Kakungulu, she joined Mukono High School in 2016 and she won with them 2017 Ball Games title.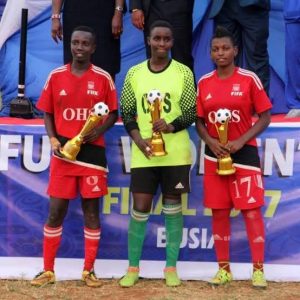 With a strong squad that had the likes of Shamira Nalugya, now at Kawempe Muslim SS Ladies FC, Fauzia Najjemba, currently at Kampala Queens, Cissy Nantogo, She Corporate.
Limited playing time at Nakawa based club, She Corporate, forced Karungi to get a deal to play for Soroti based club, Olila High School Wfc, her with Cissy Nantongo played for the side for two seasons and won them inaugural FUFA Women Cup in 2017 when they beat Asubo-Gafford Ladies on final via spot kicks.
In 2018, Karungi bounced back to She Corporate and was handed a captain's armband.
Vanessa also revealed to this website that Crested Cranes and UCU Lady Cardinals forward, Hasifah Nassuna is the hardest opponent she has ever met in her football career.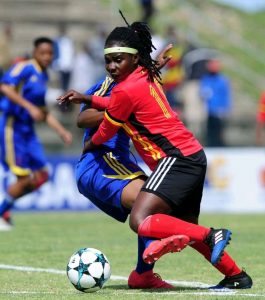 "Hasifah [Nassuna] is the hardest forward I have ever met."
Marion Amangat, Olila High School Captain, Bridget Nabisaalu, Wilmer Nantumbwe and Swabra Nkomba is the back four Karungi can confidently work with in defense, as she asserted.
Ambitions.
Vanessa is not thinking of quitting active football in a near future, she still have huge dreams, yet to be fulfilled among is to stamp her presence on the national team, playing professional football especially at the club she supports since her childhood, which is Manchester United.
Even if the retiring period knocks, Vanessa wants to remain in football circles as she revealed to this website.
"I still want to be in football Since I want to do an administration course."
Profile:
Name: Karungi Vanessa Edith
Nickname: Nessa
Date of Birth: 08th, November, 1999 (20 years old)
Place of birth(Village): Bukwali Village, Fortportal City, Kabarole District.
Parents: Mr Byamukama Francis and Mrs Akello Betty Ellah, in Kabarole District.
Position: Goalkeeper.
Strong foot: Right.
Weight: 60kg.
Height: 168.5cm
Shirt number: 21
Current club: She Corporate WFC
Previous clubs: Olila High School WFC.
Role model: Sarah Bouhaddi (Lyon and French goalkeeper) and Hope Amelia Solo (Former USA goalkeeper)
Credited persons: My Family, Coach Yasin Mubiru, Richard Kawere (She Corporate Chairman), KJT, Professor Deo Olila (Director, Olila High School).
Achievements:
(Individual level)
2019- Golden gloves (FUFA Women's Cup) with She Corporate.
2017- Golden Gloves (FUFA Women's Cup) with Olila High.
2017- USPA best player (female).
Club level:
2019- Africa 5z winner with Uganda Select.
2017- FUFA Women's Cup winner with Olila High School WFC.
2017- National Ball Games championship winner with Mukono High School.
Best players played with: Fauzia Najjemba (currently at Kampala Queens), Shamirah Nalugya- Kawempe Muslim Ladies FC and Marion Amangat- Olila High School WFC.
Best Moment in Football: When she won the inaugural FUFA Women's Cup with Olila in 2017 and traveling to Spain and watch El Clasico (Barcelona vs Real Madrid) live.
Worst Moment: When she got a head collusion that left her jaw broken in 2016.
Likes:
Dish: pasted Meat and Rice.
Hobbies: Adventuring, Watching Movies, Creating new friends.
Youth career:
2012-13: Kyebambe Girls Kabarole
2014: St Mary's Kitende
2014-15: Kakungulu Memorial High School
2016-2017: Mukono High School
Senior career football:
Club football
2016-18: Olila High School WFC
2018-To-date: She Corporate WFC
National team:
Five call ups.
No official cap.
About Author