Fortebet Real Stars Awards: Samuel Ssekamate Kayongo, Jas Mangat, James Ijongat win April accolades.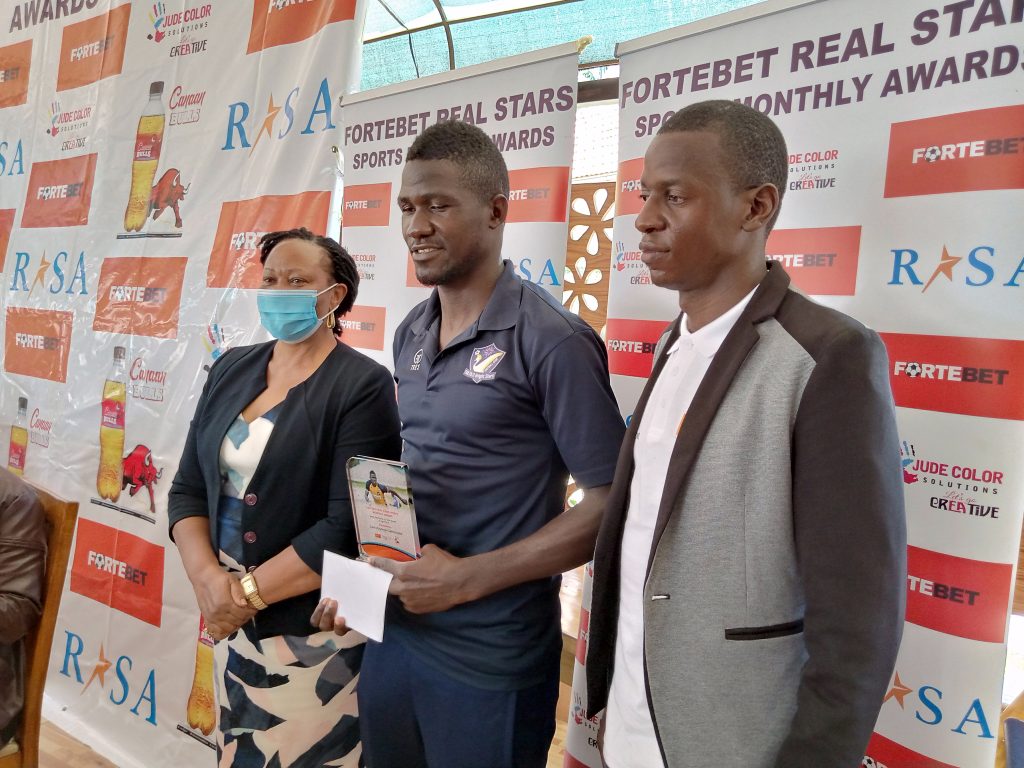 Gigantic Soltilo Bright Stars forward Samuel Ssekamate Kayongo (football), rally driver Jas Mangat and James Ijongat are the Fortebet Real Stars awards winners for the month of April in their respective sports disciplines.
Samuel Ssekamate Kayongo beat Yunus Ssentamu of Vipers SC and URA FC's Shafik Kagimu after a close race.
Samuel Kayongo Ssekamatte (Bright Stars) scored eight goals in eight games across all competitions as Bright Stars sublime form exerted misery onto opponents in the entire month.
In the league he (Ssekamate) scored six in six games while two goals came from the Stanbic Uganda Cup against Big League out fit Paidha Black Angels.
He was on the score sheet twice as Bright Stars defeated Kitara 3-1 and also scored a goal in Bright Stars wins against Wakiso Giants (3-2), MYDA (3-0), Express (3-2) and KCCA FC (2-0) in the national league.
He was also on the score sheet twice when Bright Stars defeated Paidha Black Angels 3-1 to advance to the Stanbic Uganda Cup round of 16. He has enabled Bright Stars win six of their eight games played in April across all competitions.
Yunus Ssentamu (Vipers) played an integral role in Vipers progress last month, scoring seven goals across all competitions.
He notched a brace in Vipers SC's wins against Busoga United (4-0), a 3-0 win away to Kitara and MYDA (4-0).
He was also on the score sheet as Vipers defeated Busoga United 2-1 in the return leg of the Stanbic Uganda Cup round of 32 fixture.
A dominative midfielder Shafik Kagimu is another contender of the award.
Despite being a midfielder, Kagimu scored three important goals in the month including a screamer strike against Mbarara City FC.
He ability to make most complete passes in the month, matching making, and brilliant player and creativity brings him too close to the accolade after staging a man of the match performance on four occasions.
In the rugby category, James Ijongat (Kobs') beat Ivan Magomu (Pirates) and Heathens' Aziz Khan to the month's glory.
Last month, Kobs fly half Ijongat played two games one against rivals Heathens at Legends. He sunk the Kyadondo based club with 12 points in their 19-11 win.
His performance at Dam waters against Hippos is never challenged. The Kampala Old Boys won 13-03 to maintain the top slot on the table.
Rally driver Jas Mangat, beat Duncan Mubiru Kikankane and Hassan Alwi to be crowned. Mangat.
On a Sunday of 25th April, Jas Mangat recovered from a tough day one of the three-day Equator Rally to finish on the podium (3rd) in Naivasha, Kenya.
With navigator Joseph Kamya, in Mitsubishi Evo X clocked 3 hours, 3 minutes and 32 seconds to finish behind race winner Carl 'Flash' Tundo and Tejveer Rai.
The Equator Rally in Kenya doubled as the second round of the 2021 Africa Rally Championship
Mangat also finished second at the third round of NRC in Sembabule after posting 24 seconds late to Duncan Mubiru.
The awarding ceremony of each category winner of the Fortebet, Jude Color Solutions and Canan Soda sponsored awards was held on Tuesday 4th May 2021 at Rout256 restaurant in Lugogo, Kampala.
About Author