FWSL: Repeat of 2018/19 final as UCU win Martyrs to book final with Doves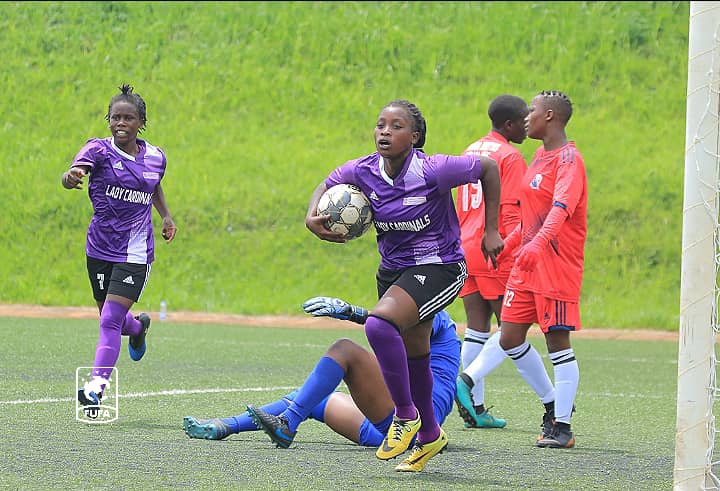 UCU Lady Cardinals have earned a place in the 2021 FUFA Women Super league final following their 1-0 win against Uganda Martyrs WFC on Monday 3rd May, played at FUFA Technical Center in Njeru.
South Sudanese international forward Jawuharah Nabagala scored for the lady cardinals to confirm a repeat of the 201/19 final which ended 2-0 in favor of eventual winners UCU Lady Cardinals.
At the start of the game, UCU Lady Cardinals displayed a champion mentality and character. They possessed the game with their captain Hasifah Nassuna all over the pitch giving hard times time to the Martyrs.
In the 15th minute, Daphine Nyayenga saved Cissy Nakate's after a well constructed move between Nabbagala Jauharah, Uganda's great Hasifah Nassuna and Nakate who Nabagala easily tapped into the net to give her side an early lead.
Uganda Martyrs Lubaga Women looked unsettled always hunting the ball from a UCU Lady Cardinals' mastered tick-tack style.
At the beginning of the second stanza, Uganda Martyrs tactician Rogers Nkugwa introduced Nalumu Sumayah for Brenda Munyana to add more creativity in the team.
After the changes, Martyrs got a clear chance but wasteful forward Nakacwa Spencer instead passed the ball to Anitah who was in off position.
Later Esther Naluyimba replaced Najjuma Shamusa to add some boldness and creativity in the midfielder but maturity, experience and great UCU talent absorbed the pressure.
Goal poacher Latifah Nakasi was introduced to replace Nakacwa Spencer in the line of hunting an equalizer.
In the last 5 minutes of the game, Namusoke Esther played one two with Anitah Namata who looked for onside Catherine Nagadya but she was denied by Crested Cranes custodian Ruth Aturo who pushed the ball into a corner kick.
UCU Lady Cardinals will face Lady Doves in a highly anticipated final of FUFA Women Super League on Wednesday 5th May 2021 at 12pm at FUFA Technical Centre, Njeru
Wasteful Uganda Martyrs Lubaga Women Football Club will play Kawempe Muslim Ladies FC on Wednesday 5th May 2021 to decide who to finishes third.
About Author