EXCLUSIVE: Synergy Futsal Club New Signing Reveals Targets Ahead Of New Season.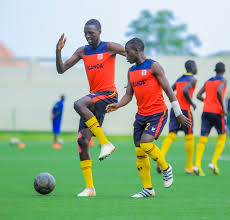 The 2020/2021 Futsal Season will kickoff tomorrow, this Saturday 1st, May 2021.
Synergy Futsal Club is among the eight teams that will compete in this year's season.
Ivan Irinimbabazi has signed with Synergy Futsal Club, and has revealed his targets ahead of the new season.
"I decided to join Synergy Futsal Club since my coach, Ssebagala Frank, convinced me how the game will help me," Irinimbabazi told this website.
"I'm a big fan of the game (Futsal) and have been following it [from] two years [back]. I believe it will help me in my future soccer career," Irinimbabazi added.
"Futsal is a game that requires quick and good decisions, and helps in gaining some creativity basics, and I think if i succeed in this game, I will be the next big thing in soccer," Irinimbabazi confidently concluded.
The 6 ft midfielder is one of the top promising footballers in Uganda, and represents the Uganda Cubs and Bright Stars Junior Team.
The 17 year old passing genius will be playing in his first ever Futsal League.
Futsal is game that is believed to have helped some world star footballers, and some of them talk about it in different positive ways.
"The game is getting more technical, with focus on decision-making, skills and creativity, [all] earned [while] playing Futsal," stated the Portugal and Juventus star, Cristiano Ronaldo.
"Soccer and Futsal have a lot in common. They share mastering the ball, combining, and making quick decks," former Spain and FC Barcelona star, Andrés Iniesta, revealed.
Synergy Futsal Club will kickoff the new 2020/2021 season tomorrow, Saturday 1st, against Kabowa Futsal Club at 12pm at the Old Kampala Turf.
About Author