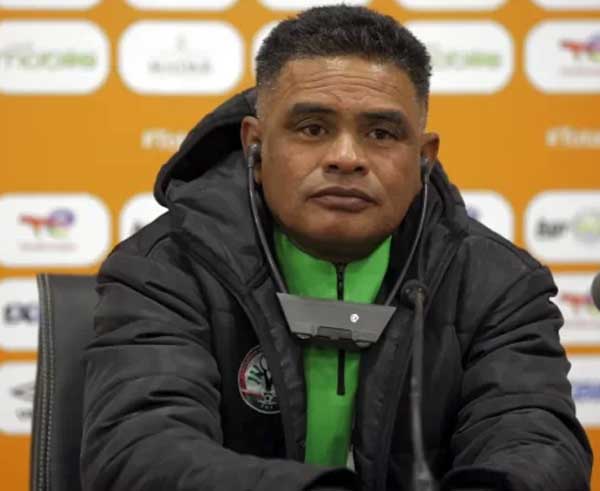 Madagascar coach Romuald Rakotondrabe has dismissed any excuses ahead of their semi-final fixture against Senegal set for Tuesday in the TotalEnergies African Nations Championship (CHAN) 2022 in Algeria.
The Barea arrived in Algiers from Constantine where they have been based until after the quarter-finals and according to Rakotondrabe, they are set for the task ahead despite having one recovery day less than their opponents.
"This is tournament life. We are not going to find excuses. I say it, we are ready to face the Senegalese here in Algiers," Rakotondrabe said confidently.
He revealed that: "We discussed it with the boys. We resorted to meditation sessions. With all the excitement, they are like children. We had to find more peace which is essential to our concentration for the next stage.
"Senegal is a strong and aggressive team. We do not have the same attributes. As a football fan, it is a treat for me to watch them play. We have observed and analysed them for a long time. Even though they are favourites for the semi-finals, we will put in place a strategy to thwart their plans."
Rakotondrabe admitted that the Barea will be counting on star player Tokinantenaina Randriatsiferana commonly known as Tsiry who has been exceptional at this tournament.
His team-mate Tantely Randrianiaaina added to the praise saying that, "I have known Tsiry since he was very young. Is it a surprise to see him so good in this CHAN? Not for me! I can even tell you that he has not even showcased all his qualities. He is also a man very appreciated by his teammates as a model for us.
He is the first to come to training and the last to leave. He has the work discipline and ethic worthy of the greatest. It is not uncommon to see him after the sessions, take a ball and sharpen his shots. I am very happy to be his teammate and above all proud that he is Malagasy."
The Barea have scored the most goals in the tournament – eight in total in three games while Senegal have found the back of the net five times in four games.
"We respect the Senegal team a lot. Senegalese teams are the pride of our beautiful continent internationally. Now against them, we'll go all out. It is true, I have to tell you, I didn't think we would go this far but my boys have proven their worth on the pitch. Today, everyone is talking about us. It can be tricky. It is up to us to stay focused," Randrianiaaina emphasized.
Qualification for the final would mean so much for these players from the big island and they are aware of writing the most beautiful page in the history of their country.
"We have come a long way. Thanks to social networks, we receive messages from our families, friends and even people we did not know before this tournament. It goes straight to our hearts. We have no right to flinch. Our story is really beautiful. We must not disappoint," concluded Tantely Randrianiaaina.
Madagascar will face their destiny on Tuesday at the Nelson Mandela Stadium in Baraki in the suburbs of Algiers.
The battle against the Lions of Teranga is a must-watch game as the two teams face-off for a place in the final.