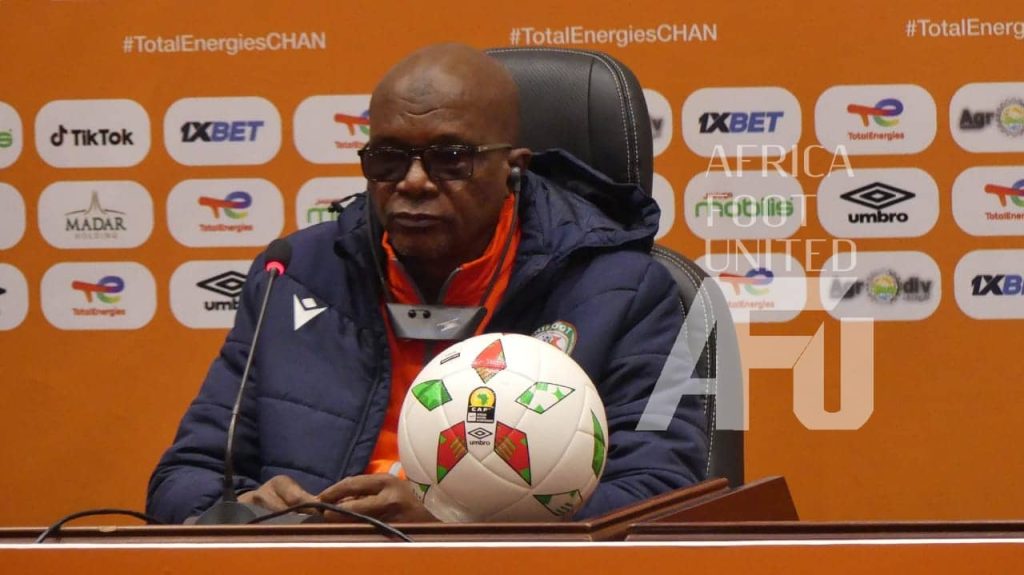 Niger coach Harouna Doula has revealed that his side will be eyeing victory when they take on hosts Algeria on Tuesday in the ongoing TotalEnergies African Nations Championship (CHAN) 2022 semi-finals in Oran.
The Menas are enjoying a historic campaign that has earned them a place in the last four for the very first time ever and against the Desert Foxes, they face their biggest test at the seventh edition of the continental competition.
"It is a game that we have to play in a simple way. All we need to do is to win and go to the final. The pressure is on Algeria who are playing at home," said Doula to the media at the pre-match press conference on Monday.
"They have no choice but to win the match but for us, we want to meet our target which is to qualify for the final so we have no pressure at all.
Both teams are yet to concede a goal at the tournament and Doula expects his team to continue with this form in the decisive game that is expected to be end-to-end.
"The two teams have not conceded yet and will now play each other. We shall do the same thing that has brought us this far. We will try to replicate any successful move from our previous games. We will work on our mistakes and shortcomings. This will be our plan tomorrow.
"I have told my players that they need to set themselves free. They need to express themselves during the game and if they do this, we can win the game.
Niger have enjoyed great support from the local fans in Oran but when they face Algeria, the locals will switch their allegiance to their home side.
"We know that the stadium will be full of fans. We will have at least 300 Nigerien fans in the stadium and for us, this support is very important. We know the Algerian fans. They are a good vibe. This is what games in the Maghreb region always feel like and we love it. The players are prepared for this for sure.
"We have a saying in Niger that – impossible is nothing for Niger. We want to write history by going to the final. You never know when you will get an opportunity like this one again.
"We played against Algeria in the preparation phase last year and lost both games so maybe this is the time that we shall break that jinx in the semi-finals (smiles)."
Meanwhile, Niger forward Yaccine Wa Bassama echoed his coach's determination and said, "We shall give everything in this game and we hope to win. We are determined. We have been playing at this stadium. We know it like the back of our hands and we have fans cheering here."
Niger have played three games at the Miloud Hadefi Stadium while Algeria will be playing at this venue for the first time in this competition.
Wa Bassama explained that, "We have nothing to lose and everything to win. I think that with the fans, it is an advantage for the stadium to be packed because it gives us the necessary adrenaline for a big game like this.
"The coach is always pushing us to do better. He always tells us that it is now or never. We should never settle for draws but aim to win every game. We need to know that it is a football game. Nothing more or less."
Niger are competing in the CHAN for the fourth time and reached the quarterfinals for the first time thanks to Doula but failed to go past the group stages in 2016 and 2020.
About Author