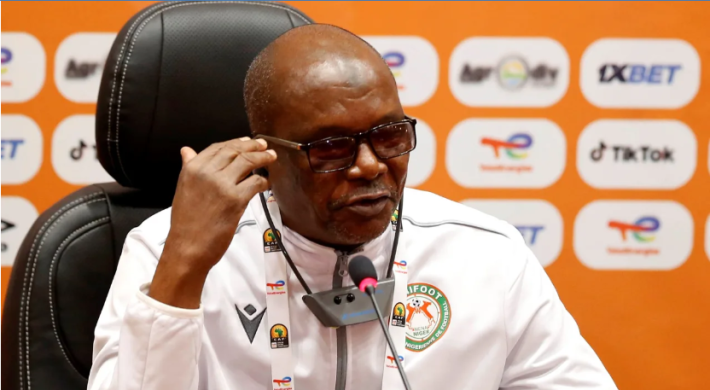 Niger coach Harouna Doula is over the moon after his side made history by reaching the semi-finals of the ongoing TotalEnergies African Nations Championship (CHAN) 2022 in Algeria.
Doula walked into the post-match press conference and spent quarter an hour introducing his technical team by name and position before requesting the media to honour them and their hard work that has led them to this achievement.
"After such a game, one can only feel joy and satisfaction thanks to these players. These players have made Niger reach this stage. People asked us how far we wanted to go.
"At this stage, I can say that these youngsters are writing history. It is the first time for Niger to reach this stage at the CHAN. It is satisfying for my players. I believe that every Nigerien is content," Doula told the media in a very passionate manner.
He continued, "Tournaments like this one do not come by every day. Our last participation in the knockout stages was in 2011. We need to believe that we can go as far as possible. If our players can take away any form of restriction, then we will do our best.
"We have been growing in this tournament. Against Congo, the players were intimidated. Against Cameroon, I felt that they were free. Against Ghana, they believed in their talent.
"Aziz [Abdoul Ibrahim] can win us a game if only he gives it his best and this is why I keep saying that players need to set themselves free and to express themselves because I know them and what they can do. He needs to relax.
"We need to set ourselves free from negative pressure and be confident in our abilities. Many teams are stiff because they are not used to playing at such a tournament.
"There is a difference between Team A and Team B. At this level, he can play at any position. This is what I am talking about. With no pressure. We are playing in a more relaxed way while being focused on our target.
Niger will now face hosts Algeria in the first semi-final on 31 January at the Miloud Hadefi Stadium in Oran in a battle for a place in the final set for February 4.
Doula predicted that, "I believe that after today's game, we can expect a beautiful game against Algeria. We started the tournament slowly with a goalless draw against Congo and then against Cameroon, we scored a goal and today, against Ghana, we scored twice.
"This shows that we are achieving the progress that we wanted. We will not play a closed game. We will rely on our strengths. We need to give the people of Oran a beautiful game."
The seventh edition of the TotalEnergies CHAN will see a new champion of the continental tournament following the exit of two-time champions Democratic Republic of Congo, 2014 winners Libya and Morocco who did not take part.
About Author