Africa schools championship: Buddo SS basketball team officially present trophy and Gold medal to proprietor Muwonge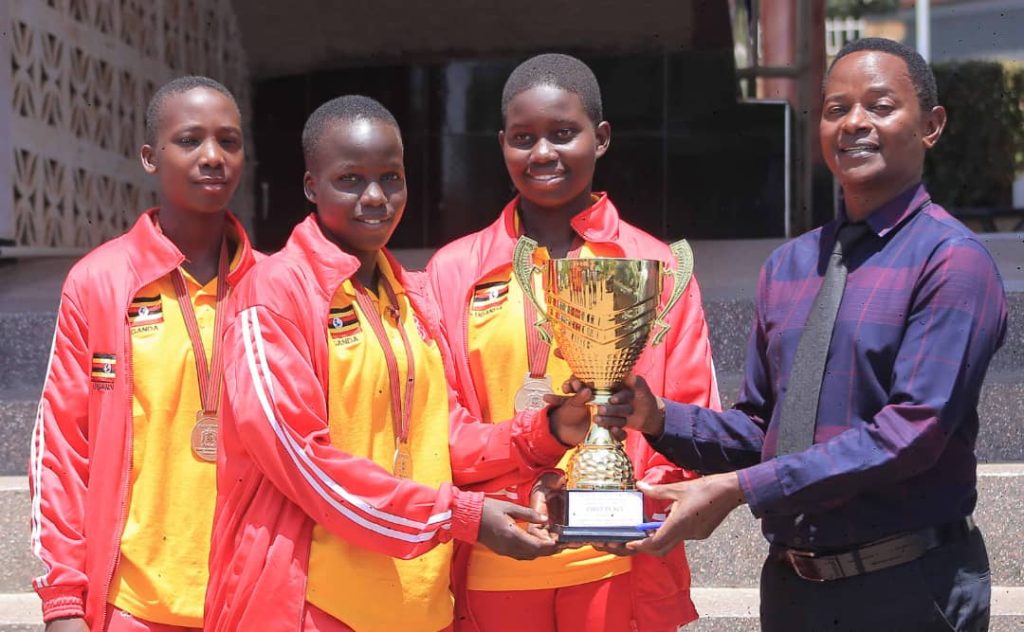 Buddo Senior secondary school (3×3) girls Basketball team have officially handed over the 2023 Africa schools' basketball championship girls trophy to the school proprietor Lawrence Muwonge at the school in Buddo.
The girls side won a Gold medal for Uganda and FEASSSA region and also awarded with a trophy.
Buddo SS, represented Uganda and FEASSSA region in both boys and girls 3X3 basketball at the inaugural African Schools championship held in Casablanca, Morocco.
Despite the boys poor run at the tournament, Buddo SS girls stood the tallest and  won the  girls title after overcoming hosts Morocco 33-29 on aggregate over the two legs.
The focus now shifts to the World Schools Orienteering Championships to be held in Rio de Janeiro, Brazil starting 19th  – 27th  August 2023.
Buddo SS registered a 21-16 win in the first round before a slim 13-12 defeat to the Moroccans in the final game to secure a gold medal for Uganda and East African region.
Buddo (U15) girls staged a spirited performance against the host school from Morocco to register their convincing first win at the championship in day one.
Meanwhile the boys failed to stand up to the show losing all their four games at the championship.
Buddo lost 21-8 against the of two host schools (Morocco) and 21-4 to the other in day one.
The host presented two boys teams at the championship.
In day two, they also failed to overturn fortunes in their with two loses against Niger and Gabon side schools on Tuesday, the 28th.
The boys play a round robin format championship.
The boys category was won by the host Morocco as Kenya settled for a silver.