You Have a Right to Associate or Disassociate – Muhangi Tells FUFA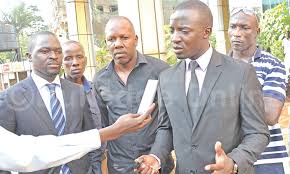 The interim chairperson of the newly formed Uganda Sports Federation and Associations Moses Muhangi hits back at FUFA's document that made rounds on social media, disassociating them (FUFA) from the above formed umbrella.
On Friday 11th, FUFA released a document signed by the communications head Ahmed Hussein distancing his organization (FUFA) from associating with the formed federations heads association as it partly reads.
"FUFA sent a representative to the meeting of national sports federations at Kati Kati restaurant on Thursday 10th December 2020 and a report was made to FUFA executive committee.
FUFA hereby disassociates itself from the association formed and will consequently not be part of the activities of the formed association.
However, in synergy with other stakeholders FUFA will continue to advocate for more attention to the entire sports industry in Uganda from government and private sector through National Council of Sport, Uganda Olympic Committee, ministry of education and sports and various relevant government institutions but not creating and being part of parallel bodies.
FUFA believes that the challenges that need to be urgently addressed through appropriate channels include legislative bottle necks arising out of an outdated 1964 NCS act, sports infrastructure for international, National, Regional, village training and competitions and policies that drive more private investment to sports industry.
FUFA will remain open to join efforts with other National Sports Federations using strategies and approaches that do not seem to either contradict or undermine the already existing efforts and institutions."
It was from that circular that Muhangi hit back notifying that FUFA has a right to associate or not.
Muhangi also questions the manner and timing in which the document was released which he says lacked professionalism and was full of panic.
"We neither force any federation to be a member in this association nor there's an association in Uganda that forces membership. You can choose to associate or not, everyone has that right. But if you choose to disassociate it doesn't need creating public noise.
I'm amused that their move was very premature.
How can one disassociate with something that hasn't started. The association has formerly started today and before it was an idea.Why and how do you distance yourself from something not in existence." Muhangi.
This was during the official unveiling of the newly formed Uganda Sports Federation and Associations heads association held on 12th December 2020 at Kati Kati restaurant in Lugogo.
FUFA's disassociation notice came shortly after the Uganda sports federation heads meeting held on Thursday, 10th December 2020 at Kati Kati Restaurant, Lugogo from which the Uganda Boxing Federation (UBF) president Moses Muhangi who is also the vision bearer was elected the interim chairperson of the association.
The federations believe the sports industry has been left out in all government programs, lacking funding policy, with poor sports infrastructure yet the subsector  accommodates a big number of youths in the country and it's a potential source of employment opportunities.
In their view, they (federations) feel  it's time for them to have a common voice that can represent the sports industry interests and directly touch the major challenges.
"We have been missing that common voice speaking real issues affecting us. We are important actors in the industry and we must ensures it grows betters all the time with us at the frontline of the cause.
We are not here to battle National Council of Sport, Uganda Olympic Committee neither the ministry. We must engage all stake holders and we shall meet NCS, UOC, minister for sports, senior minister of the ministry Janate Museveni and of course the president with only ideas purely for the development of sports." Muhangi.
First Issues at Hand
The interim committee will be working on legalizing the association and working on immediate issues.
Advocacy for a well designed national sports policy which can ensure equitable funding, sports infrastructure development and turning the industry profitable is are the issues on the fore front.
About Author