Women Football: Music Star, Sheebah Karungi Donates 1500 Packs Of Holic Pads To U17 National Team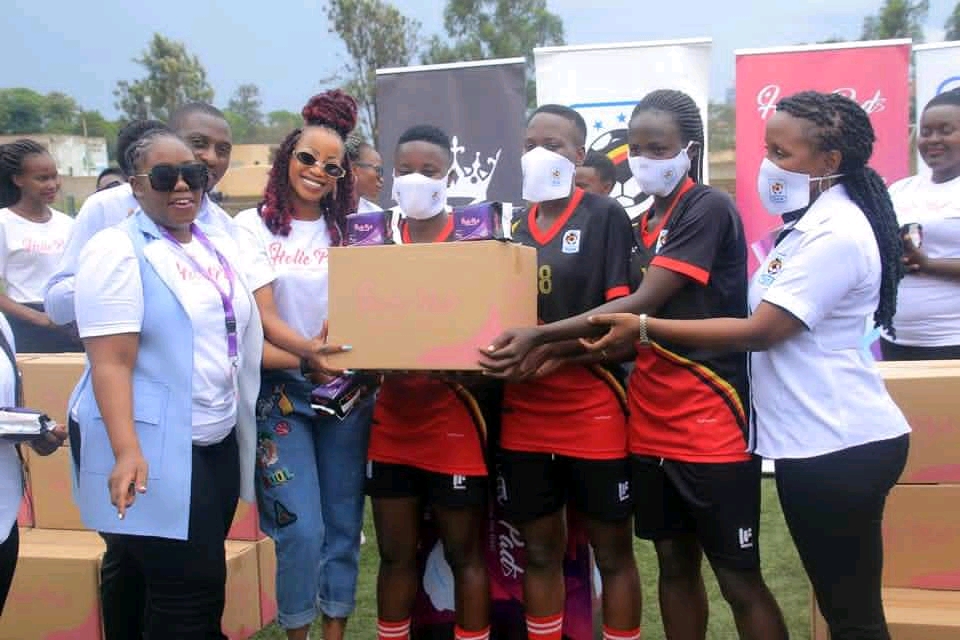 Donations to National U17 Women Football team keep on coming as they are preparing for Cameroon doubleheader fixture in FIFA women World Cup qualifier 2021.

On 29th October, 2020, the celebrated music Star in Uganda and East Africa, Sheebah Karungi via her company, Holic Pads, donated sanitary pads to girls in the event held shortly after the team's morning training session at Lugogo.
On behalf of the federation, FUFA Excom Member Ronnie Kalema received to contribution of 1500 packs of Sanitary pads from Sheebah Establishments.
Her, the Queen of the Area, storming the ground triggered excitement and huge smiles from girls.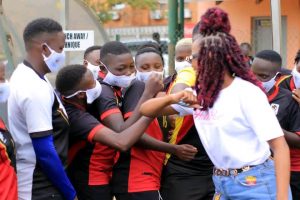 While addressing media on receiving the Package, Ronnie Kalema said;
"I take this opportunity to send you greetings from FUFA and assure you that we are cordially grateful to the Management of Sheebah Establishments who manufacture Holic Pads. Thank you Sheebah Karungi for giving FUFA and back to the women national team that is just 180 minutes to make it to the U17 FIFA World Cup. It is a great CSR activity to FUFA. You can see how excited these young girls are. This gesture will make a huge difference in their lives. FUFA is grateful to associate with people like Sheebah"
The Nakyuka hit maker, revealed that she started hustling while 14 years and she could hide her excitement towards the girls who are lifting the nation as well as their talents while still at tender age.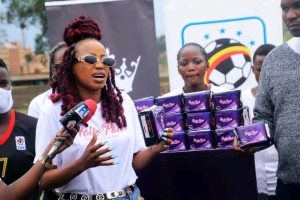 "Praise God. I am so proud of you. I come from a back ground where i started working at 14 years. So I am so proud for you that you are young women but you are going to do something big for your selves and the country. You do not know how great you are already. Keep pushing and I know you are going to make it but first things first I want you to be comfortable and that is why we decided to extend this gesture to you."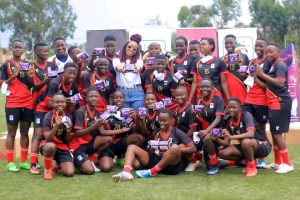 "We have come to give you Holic Pads and also offer you something beautiful pads which will make you comfortable when playing on the pitch and beating Cameroon. I do not want you to wake up in the morning with a lot of discomfort because of the menstrual times. We want you to feel comfortable and do what you do best so regardless whether you are in your red zone or not. We want you to win because you are destined for greatness"
This is not the first donation FUFA is getting for the girls, the first partnership was with Crown Beverages, who donated 400 cartons of Nivana water.
According to unofficial communication, the team shall leave training camp on Saturday to get back to their respective homes since CAF and FIFA postponed the fixture from 31st October 2020 to a date yet to be communicated.
About Author