Uganda Hockey national teams both men and women set for Kenya test series in Nairobi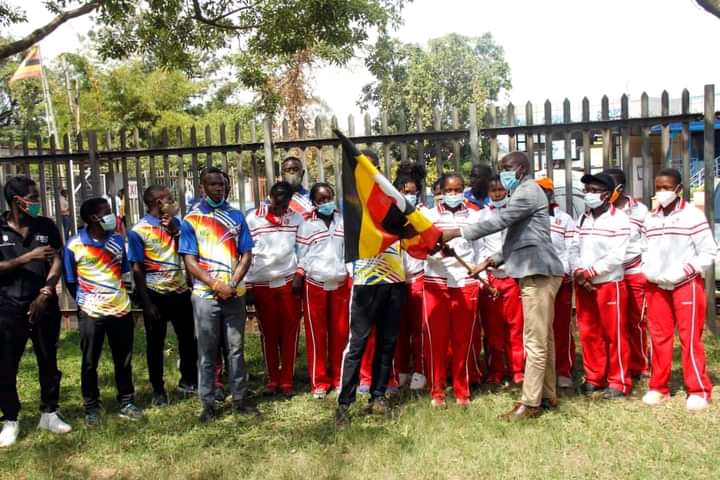 A contingent of 49 comprising of Hockey National teams for both men and women and officials set off to Kenya on Tuesday 16th March 2021 for test series.
The team to Kenya, team comprised of 17 (women), 18 (men) players and 14 officials of the association. These were flagged off by Uganda Hockey Association (UHA) general secretary in charge of administration Tito Kayiwa at National Council of Sports headquarters in Lugogo.
According to Tito Kayiwa, UHA is hopeful the teams will put up a good show in Kenya during the series competition scheduled to start on Thursday 18th to 21st March in an attempt to improve the country's ranking status internationally.
"We head to Kenya keeping it in mind that they are not only friendly matches, but also carrying the Ugandan flag with a strong winning mentality to represent the nation," Kayiwa noted.
"Go to Nairobi and show the Kenyans what Uganda have been building all this time.
Previously Uganda was not ranked as per Federation of International Hockey and African Hockey since our teams haven't been engaging in the international events.
It's our pleasure to revive the national teams' glory on the international scene", Kayiwa.
The national teams of both the men and women have been undergoing vigorous training at the hockey pitch in preparations for the test series for a couple of weeks ago.
Bosco Ochan will captain the men's side. Moses Tushabe and Stuart Kavuma will be Ochan's assistants.
Whilst, Doreen Asiimwe (captain) and Desire Mukasa (assistant) will lead the women's side in the Kenya engagement.
Uganda qualified for the AFCON hockey championship slated to take place in Ghana, January 2022.
Full contingent
Men's team
Bosco Ochan (Captain), Moses Tushabe (Ass. Captain), Stuart Kavuma (Ass. Captain), Timothy Ntumba, Jordan Mpiima, Solomon Mutalya, Brian Okodi, Peter Walusansa, Charles Ekapolon, Topher Kyamanywa, Maxwell Mugisha, Innocent Raskara, Martin Okello, Ashiraf Tumwesigye, Thomas Opio, Alfred Agaba, Brian Bayuule, Jerome Owori
Women's team
Doreen Asiimwe (Captain), Desire Mukasa (Ass. Captain), Faith Ochom, Carol Oguti, Doreen Mbabazi, Teddy Aciro, Pauline Achom, Aisha Kagere, Consulate Muber, Esther Chelimo, Joan Mukoya, Lumala Nakajjumba, Margret Nassiwa, Naume Makila, Sarah Mbekeka, Shakira Nambooze, Winnie Alaro
Officials
Vincent Kasasa (men's coach), Byron Matovu (Manager men's team), Emma Ewochu (doctor both teams), Sadik Akii (Physio both teams), Sandra Namusoke (Coach-women), Fatumah Namubiru (Manager-women)
Chef de mission – Philip Wafula
Umpires – Stanley Tamale and Kenneth Tamale
Technical officials- Ramathan Siraje and George Ntegeka
Media – Maktum Muziransa and Charles Lwanga Musoke
About Author