Bright Stars Vs SC Villa: Nicholas Kabonge wins it late for Villa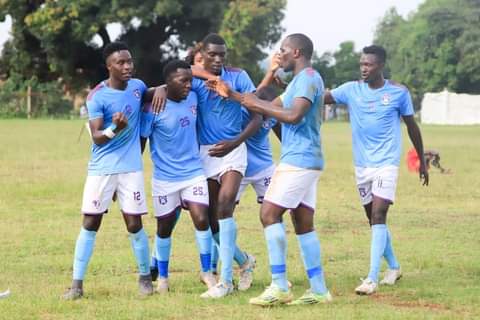 Record champions SC Villa beat Soltilo Bright Stars 2-1 in their Uganda Premier league first round final tie played on Wednesday 17th March 2021 at Kavumba Recreation Center.
Benson Wagima's own goal and Nicholas were enough for SC Villa to pocket three points whilist Bright Stars scored through Joseph Akandwanaho.
Benson Wagima netted self from an off the post ball after Fred Agandu's cross just six minutes into the first stanza granted SC Villa an early 1-0 lead.
Shortly after a minute, custodian Medie Kibirige secondary school mistake costed SC Villa when he rewarded Joseph Akandwanaho who calmly slotted the ball at the back of the net in the 7th minute.
The two sides played to a one all first half draw as both sides rarely created goal scoring chances.
Bright Stars quickly at the beginning of the second half introduced Samuel Kayongo as James Angu paved way.
In 62 minutes, SC Villa's tactician Edward Kaziba introduced midfielder Nicholas Kabonge to replace Salim Abdullah.
Shortly after four minutes after his introduction, Nicholas Kabonge scored Villa's second when he finished Derrick Ndahiro's cross from the left wing.
Coach Baker Mbowa of Bright Stars made double substitution bring on the fresh legs of Augustine Kacancu, Kasinde and Kisitu to replace Methodius Jjungu, Joseph Janjali and Kiggunddu in 72nd minute.
Kaziba also introduced Sadam Masereka to replace Muhammad Ssenoga in 78 minutes before their final substitute the saw Ssekiranda on for Francis Olaki just three minutes to the end of normal time.
The win pushed to 25 points to stay 7th whilst Bright Stars also stayed 10th on 17 points.
Line ups
SC Villa
Benson Wagima, Joseph Akandwanaho,
Kiggunddu, James Angu, Warren Bbuule, Joseph Jjanjali, Methodius Jjungu, Andrew Kaggwa, Derrick Ngoobi, Samson Mutyaba, Gabite
Sub
Simon Tamale, Augustine Tamale, Samuel Kayongo Ssekamatte, Kasinde, Katwe Kisitu, Andy Kyambadde
SC Villa
Medie Kibirige, Fred Agandu, Harishe Kihogo, Amir Kakomo, Kiwanuka, Gavin Kizito, Derrick Ndahiro, Francis Olaki, Salim Abdullah, Ronald Ssekiganda, Muhammad Ssenoga
Sub
Nicholas Kabonge, Faizal Kazibwe, Sadam Masereka, Isaac Ogwang, Goffin Oyrwoth, Derrick Ssekiranda, Medie Ssenkooto