Ssekamate, Akandwanaho on target as visitors Soltilo Bright Stars beat KCCA FC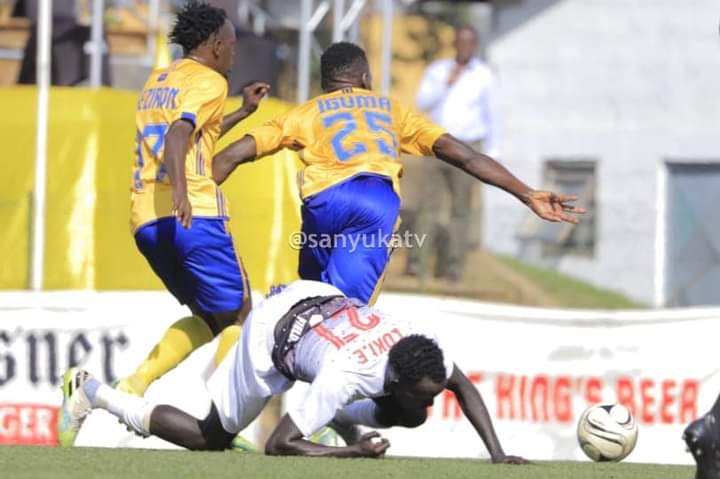 It was a tight first half contest at Philp Omond Stadium, Lugogo between KCCA FC and Soltilo Bright Stars in Uganda Premier League tie as visitors Soltilo Bright Stars beat KCCA FC 2-0.
Samuel Ssekamate Kayongo and Joseph Akandwanaho second half goals were enough for Soltilo Bright Stars to bag all the three points.
The best attempt of the opening stanza came from Marvin Joseph Youngman whose shoot hit the crossbar just 10 minutes into the game.
Two minutes later, Simon Ssemayange fouled Sserwadda for KCCA to have a free kick advantage on the edge of the area in the 12th minute before Herbert Achai attempt from it kissed the lower post.
In the 45th minute, Soltilo Bright Stars goalkeeper Simon Tamale tipped over Steven Sserwadda's free kick for a corner kick which yield no fruits as the first stanza ended barren.
Immediately at the beginning of second stanza, Bright Stars' tactician Baker Mbowa made two changes as South Sudanese international Emmanuel Loki and Ibrahim Kasinde paved way for Joseph Akandwanaho and Joseph Janjali to improve his attack side.
Two early second half chances from either sides were seen in 58 minutes as Charles Lwanga's shot was blocked inside the goal area before KCCA FC goalie Charles Lukwago saved Bright Stars' Samuel Ssekamate long range in the 60th minute.
In the 65th minute, KCCA FC tactician Molly Byekwaso introduced Ali Gift who came on for Andrew Kigozi
Ssekamatte Kayongo scored a free kick against former pay masters in the 67th minute to give Soltilo Bright Stars a 1-0 lead.
71 minutes into the game, Juma Balinya of KCCA FC came on for young star Steven Sserwadda as they continued to trail.
Later in 76 minutes, Baker Mbowa replaced Jungu Methdious with Davis Ssekajja to tighten the midfield.
Joseph Akandanahwo scored the second for Bright Stars off weaker right foot in the 80th minute after a great inter-play between Ssekajja and Marvin Joseph who finally set Akandwanaho to reduce number to hit the back of the net.