South Africa Vs She Cranes: Head to Head facts ahead of the epic Tri-Nation test series opener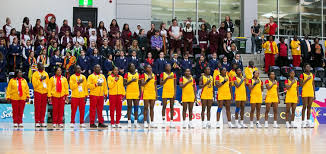 The Uganda national netball team "She Cranes" is to face South Africa in Tri-Nation test series throwing off at the opening ceremony on Thursday 25th March 2021 in Cape Town.
This will be the 13th record time as the two sides meet. South Africa's "Spar Protea" has won on 10 occasions and lost to Uganda only twice.
After today's opener with South Africa, Uganda's She Cranes will be back in action on Friday 26th to lock horns with Namibia.
Saturday, will be a rest day for the She Cranes as the Rashid Mubiru coached side gets set to face Namibia and South Africa on Sunday 28th before they battle Namibia for third time on Monday 29th.
The Tri-Nation test series will climax on Wednesday 31st with an awarding ceremony after the event's last game between Uganda and South Africa.
Stella Oyella (NIC) is to captain the team in the absence of long time serving skipper Peace Proscovia who wasn't summoned.
Oyella is deputized by Irene Eyaru (KCCA) during this engagement.
Uganda VS South Africa Head to Head facts
• The two side have met 12 times in history.
• Out of the twelve meetings, South Africa has won 10 and Uganda recorded only 2 wins on their back drawing non.
• Out of the twelve meetings, South Africa's Uganda's average score is 50-38.
• South Africa's biggest win margin is 32 goals (47-27) in 2016 in Durban during the African netball championship.
• Uganda biggest win margin is 4 goals which came in (47-43) win in 2003 in Kampala and (34-30) in Pretoria.
• Most goals scored by Uganda 47, (47-43) in 2003 in Kampala, (47-50) in 2019 in Cape Town.
• Least goals conceded by Uganda 30, (34-30) in 2007 in Pretoria and in 2019 in South Africa 50-47 Uganda (Cape Town).
• Uganda's biggest defeats to South Africa are 67-40 Uganda (Liverpool) in the 2019 (15th edition) Vitality World Cup.
• 2018 South Africa 53-42 Uganda (Gold Coast) in the Commonwealth games.
• 2016 South Africa 59-27 Uganda (Durban) in the African Netball championship.
• 2015 South Africa 50-40 Uganda (Sydney) World Cup.
The test series are to help Uganda stay in the International Netball Federation (INF) top 12 rankings to keep Common Wealth games slots whose qualification to the final tournament was decided to be based on rankings.
The She Cranes need to win a match or reduce losing goal margins against South Africa's Spar Proteas to over take Malawi who is currently second ranked and 6th in Africa and World respectively.
About Author