FAU: Over 30 embrace FIFA Futsal refereeing course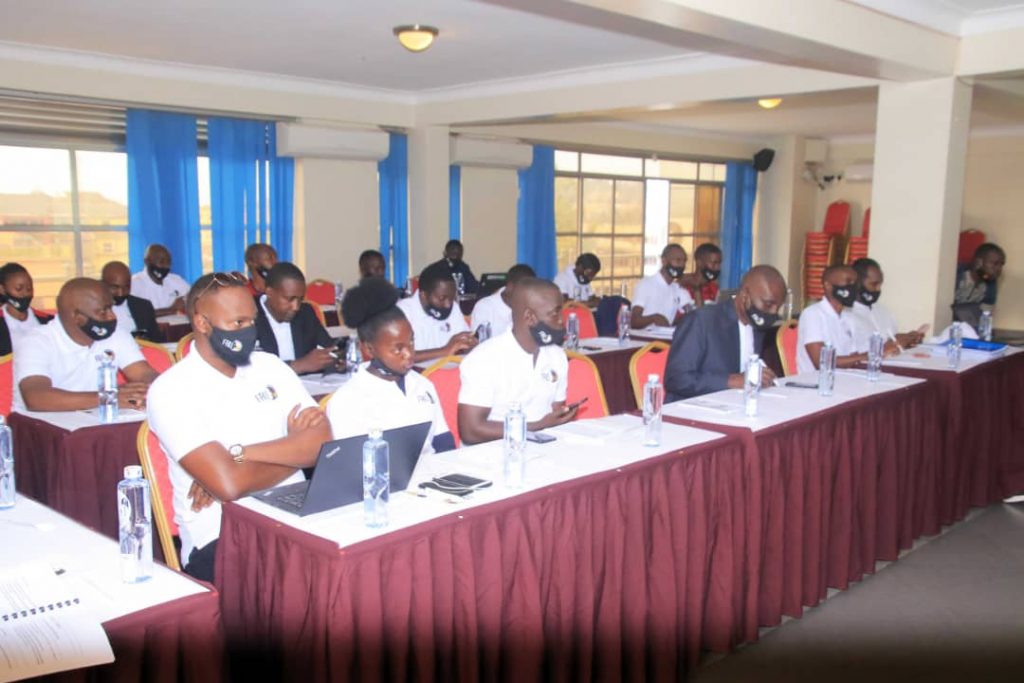 Futsal Association of Uganda (FAU) in conjunction with FIFA organized a three day Futsal refereeing Zoom course which started on Wednesday 24th to Friday 26th March 2021 at Jevine Hotel, Ndeeba.
Over 30 Ugandan participants/referees 7 of whom are females took part in the course where Futsal Super league referees shall be awarded with 2021 season Badges and FIFA certificates to those who shall pass exams after this event at the closing ceremony on Friday.
The workshop came after FIFA recommendations indicated in circular 1719 passed on 29th May 2020 notifying an update on Futsal Laws of the Game bringing them into line with a number of modifications previously made in football.
The amendments to the Futsal Laws of the Game for the 2020/21 edition were approved by the Bureau of the FIFA Council on 8th April 2020 and came into force as of 1st June 2020 despite competitions suspension due to COVID-19
The course conducted by the FIFA Futsal refereeing instructor Perry Guatier from Belgium shall continue with day two and three on Thursday and Friday.
According to FAU chairman Hamza Jjunju, the aims of the workshop/course are as below.
"Training Ugandan Futsal referees in the masterly and application of Futsal Laws of the Game.
Clarity on the FIFA new amendments of the Futsal Laws of the game majorly focusing on futsal referee positioning and movements in the court, blocking/ impeding futsal play fouls applications in the game.
Examinations/ Video tests to be done by futsal referees as PWR different futsal match situations to examine their decision making."
List of participants
Men
Brian Nsubuga, Benon Kanamwanje, Majid Hassan, Ismailah Mulindwa, Bashiri Lukabwe, Isaac Sengendo, Emmanuel Kazoora, Erias Kafeero, Richard Kimbowa, Patrick Njuki Male, Mazamil Buhibingi, Solomon Jumba, David Kiwanuka, Haruna Nyanzi, Hakim Wegulo, Mikidadi Ssenoga, Najib Buwembo Kalule, Hamzah Jjunju, Joshua Jagalo, Peter Nkugwa, Isaac Masaba, Mark Ssonko.
Women
Yudayah Nalubega, Shakira Mutesi, Dorcas Bamukisa, Mercy Katono, Pauline Nakiguli, Sylvia Mbabazi, Dorothy Nakanwagi.
About Author