SC Villa to face Ndejje, KCCA meet Nyamityobora as Stanbic Uganda Cup round of 32 draws held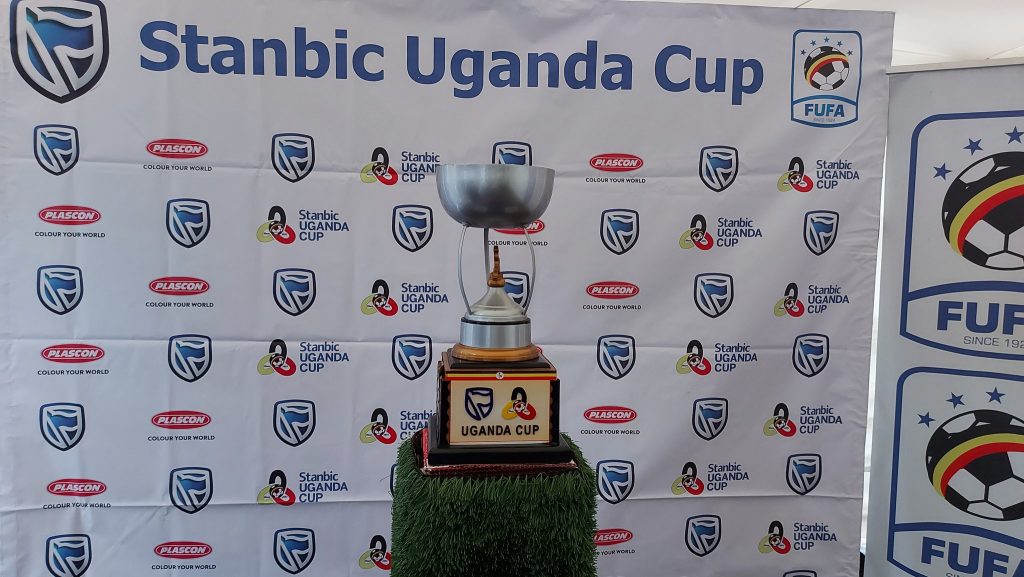 The 47th edition of the oldest football tournament (Stanbic Uganda Cup) round of 32 draws were held on a wet morning of Tuesday, the 30th March 2021 at FUFA House, Mengo.
Record holders KCCA and Express FC, both tied at 10 trophies will face Nyamityobora FC and Kyetume FC respectively.
Uganda's finest SC Villa was drawn to Ndejje while Uganda Premier league table leaders URA FC are to take on Mbarara City.
Police FC will play host to Big league outfit Calvary FC while Vipers SC are to face off with Busoga United.
The round of 32 games both home and way are to be played between 5th and 11th April 2021.
This edition's draws come shortly after a Paint company Kansai Plascon were unveiled as new tournament partner on Friday 26th March who joined with a 2 year sponsorship package of 132 million shillings.
Following the boost from Plascon paint, FUFA immediately announced an increase in prize money for the Stanbic Uganda Cup to 166 million this season.
The increment will see the eventual champions take home UGX. 50M, 20M for runners up, 12M for semi-finalists, 6M to quarter-finalists, 3M for round of 16 exits and teams that exited at the round of 32 shall get 1.5M.
FUFA also announced a change in format for this season's Stanbic Uganda Cup due to the government covid19 restrictions that are still in place. Last edition was cancelled due to a ban on sports activities which ban was since relaxed but with strict SOPs.
The 2020/21 season of the Stanbic Uganda Cup shall be played in 5 rounds instead of 6. The Cup will begin from Round of 32 and shall involve only Premier League and Big League clubs.
All ties will be two-legged affairs except for the Final which shall be one-leg at a venue to be communicated.
This year's tournament kicks off on Monday 5th April and runs till 24thJuly 2021.
The Stanbic Uganda Cup is Uganda's biggest club football tournament played by teams across the Uganda football league system as well as non-league clubs.
A record 191 teams competed in the 2019/20 season with 157 playing at the preliminary stage. The 2019/20 season was cancelled and declared null and void due to government covid-19 restrictions.
ProlineProline FC are defending champions (2018/19 season) after beating Bright Stars 5-4 on penalties to lift the trophy in Masaka. Proline were the first Big League team to lift the trophy and won the double that season.
KCCA FC and Express FC are the joint record holders of the Stanbic Uganda Cup. Each has won it 10 times with KCCA FC's most recent win in 2018/19 while Express FC's was in 2006/7.
Full draws.
1. Tarrazo and Tiles Vs Maroons FC
2. Onduparaka FC Vs Luwero United
3. Vipers SC Vs Busoga United
4. Water FC Vs Wakiso Giants
5. Kitara FC Vs Kigezi Homeboyz
6. Blacks Power FC Vs Bul FC
7. KCCA FC Vs Nyamityobora FC
8. Gadafi FC Vs Mbale Heroes
9. Proline FC Vs MYDA FC
10. Kyetume Vs Express FC
11. Kataka FC Vs Tooro United
12. Paidha Black Angels Vs Soltilo Bright Stars
13. URA FC Vs Mbarara City
14. Police FC Vs Calvary
15. Arua Hill FC Vs UPDF
16. SC Villa Vs Ndejje University FC
About Author