Pool: Mansoor Bwanika, Rashida Mutesi win the 2021 Grand Open championship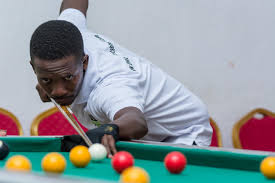 National reigning champion Mansoor Bwanika and Rashida Mutesi are the Grand Open first edition champions.
Mansoor Bwanika beat national team captain Alfred Gumikiriza 9-4 in the final to be crowned. Whilst Mutesi outclassed Justine Nampeebwa in the 8-4 thriller to win the women category.
The three day championship which started on Friday 19th climaxed on Sunday 20th March 2021 at Pot-It-Bar in Najjanankumbi.
In the semi-final, Bwanika eliminated Mustafa Bwiire and Gumikiriza beat Akampulira 7-4 and 7-5 respectively to reach final.
National team captain and also 2011 national champion Alfred Gumikiriza aka "Black Sheep" beat Godfrey Ssetumba 7-5 in a highly contested quarter-final tie to storm semi-finals.
Gumikiriza staged a spirited come back to win Ceasar Chandiga 6-3 in the round 16.
Reigning champion Mansoor Bwanika beat Habib Ssebuguzi 7-5 in a tight contest to book a semi-final slot.
In the round of 16, Bwanika outclassed 2016 champion Sulah Matovu 6-3 to reach quarter-final stage.
Mustafa Bwiire lost a bloody semi-final tie to seed four Mansoor Bwanika 7-4 while Alfred Gumikiriza beat Richard Akampulira 7-3 of the series in a race to seven.
In the quarter-final, Lukia Nayiga came from behind three games beat Sharon Mirembe 6-3 to book a semi-final tie with a her elder sister Mutesi Rashidah.
Rashidah Mutesi outsmarted Faith Nganda in a 6-2 thriller to reach semi-final stage.
In the other day's quarter-finals, Ankah Sheillah beat Prossy Namuli 6-1 before she lost a semi-final 7-5 tie against Justine Nampeebwa who beat Michelle Nandawula 6-5 in the quarter-final
Mutesi staged a classic show against her sibling Lukia Nayiga winning the tie 7-3 to storm final.
A total of 144 players 90 of whom were men took part in the tournament.
Prize money
Men
Mansoor Bwanika (champion) – 2M
Alfred Gumikiriza 1M
Richard Akampulira – 500,000
Mustafa Bwiire – 250,000
Women
Rashida Mutesi (Champion) – 1M
Justine Nampeebwa – 500,000
Ankah Sheillah – 250,000
Lukia Nayiga – 125,000
About Author