Police FC Beat Busoga to Occupy UPL Table Summit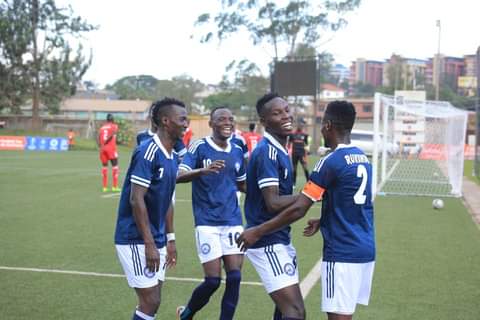 Police FC has this evening beaten struggling Busoga United 3-0 in the Uganda Premier League match day four fixture at Lugogo to climb to the summit of the table.
Derrick Kakooza scored an early goal for Police FC in the 10th minute when he tapped in Denis Rukundo's cross.
Yusuf Ssozi shortly assisted forward Ben Ocen in 24th minute who calmly slotted the ball into the left corner of the goal to extend Police's lead to 2-0. At the break, it was still 2-0 in favor of the host.
Fahad Kizito assisted Mubarak Nsubuga in the 71st minute to put the score to 3-0 despite a full second half start from both parties.
Police FC played for a goalless draw in their opening fixture in which Mubarak Nsubuga wasted numerous would be chances for Police goals.
In the second fixture, Police beat hosts and new comers MYDA 3-1 at King George stadium in Toronto before humiliating new comers Kitara FC by 5-0.
After today's win, Police FC occupy the top position with ten points in four games.
On the other hand, Busoga United has one point attained from Kyeyume and has lost to Bul 2-0, UPDF 3-1 and Police FC 3-0.
Police FC XI
Tom Ikara, Denis Rukundo, Eric Ssenjobe, Henry Katongole, Muhamood Hassan, Samuel Kayongo, Tony Kiwalazi, Derrick Kakooza, Yusuf Ssozi, Ruben Kimera, Ben Ocen
Subs
Derrick Ochan, Joseph Ssentume, Mubarak Nsubuga, Tony Mawejje, Edward Kiryowa, Herman Wasswa, Fahad Kizito
Coach: Abdullah Mubiru
Busoga United FC XI
Kimera Ali, Onen Franco, Hakim Magembe, Muganga Douglas, Kamya Moses, Balabala Franco, Kirya Jeromy, Ssekulima Paul, Mayanja Anthony, Mugulusi Isma, Kimbowa Sharif
Substitutes
Omedwa Rogers, Opaala Edrine, Ssewava Dan, Bagoole Gerald, Batwawula Ashiraf, Otwao Abubaker, Kakeeto Shafiq
Coach: Bogere Abbey
Assistant: Lumu Fred
Doctor: Kulika Ivan
Physiotherapist: Zungu Hassan.
About Author