Pepsi University Football League: St. Lawrence eyes semifinal spot as they host Kampala University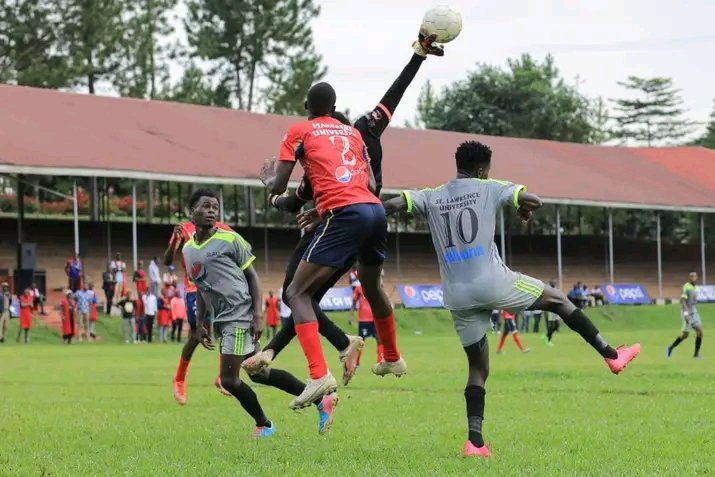 Quarter-Final: Second Leg
St. Lawrence (1) vs (0) KU
Thur 29th September
3:00pm, Kavule Campus,
Masaka Road
The second legs of the 2022 Pepsi University Football League quarter-finals get underway tomorrow Thursday with St. Lawrence University hosting Kampala University at their Kavule Campus on Masaka Road.
St. Lawrence who were beaten in the previous final by reigning champions Uganda Christian University go into this Thursday's game with a slim advantage having beaten two-time champions Kampala University 0-1 courtesy of Aniku Fahad's late goal in the 87th minute.
However St. Lawrence head coach Nnono Ssozi believes that there is still a long way to go before they reach the semi-finals.
"We were better tactically and that is why we won the first game but they were the best team technically," Nnono said.
"We are not yet in the semi-finals. There are still 90 minutes to play but it is good that we laid a good foundation in the first leg and we simply need to build on that," Nnono added.
For Kampala University coach, Tumusiime Vincent, the tie is definitely not yet over.
"Yes we lost the first leg but generally we played quite well and I know that if we play the same way and just add some goals we shall do well in the second leg," Tumusiime said.
"Keep in mind the last time we met St. Lawrence in the knockout stage, they beat us in the first leg and we beat them in the second leg so I am not worried and I am confident we shall make it to the semi-finals," Tumusiime added.
Other quarter final fixtures are as follows:
Tue 4th October
UMU (1) vs (1) Bugema
Thur 6th October
UCU (0) vs (0) Nkumba
Tue 11th October
MUBS (2) vs (1) Kyambogo