Pepsi University Football League: Kyambogo edge MUBS to progress to semis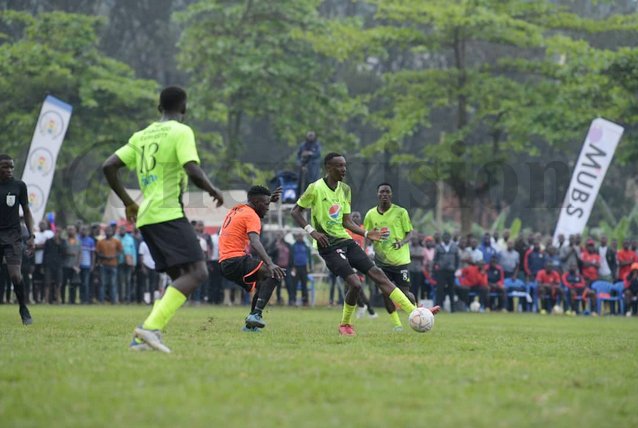 Quarter-Final (2nd Leg)
MUBS (3)1-2 (3) Kyambogo
[Penalties MUBS 1-4 Kyambogo]
Kyambogo University got their first ever win against rivals Makerere University Business School today in the 2nd leg of their Pepsi University Football League Quarter-Final forcing their tie into penalties which they won 4-1 to progress to this season's semi-finals.
The visitors lost the first leg at home 2-1 and we're one goal down against MUBS within seven minutes of the game after Ssengendo Sharif scored for the hosts.
However Kyambogo never gave up levelling twenty minutes later through Nkwanga Joel. They continued to pile the pressure and their efforts were rewarded in the 90th minute when Laker Joram scored through a corner kick to secure Kyambogo's first ever win against MUBS in nine games.
The win meant the two sides were level on aggregate sending the tie in to penalties in which goalkeeper Ahebwomugisha Andrew was the hero after saving three penalties to see his side win the shootout 4-1 and progress to the semi-finals for their 3rd time since 2014.
Kyambogo join St. Lawrence University, Uganda Martyrs University and Uganda Christian University in the semi-finals whose draws will be conducted on Thursday 13th October at 2:30pm.
About Author