Kickboxing: Traveled like peasants, returned as Kings. Uganda's first ever national team writes history at the concluded World championship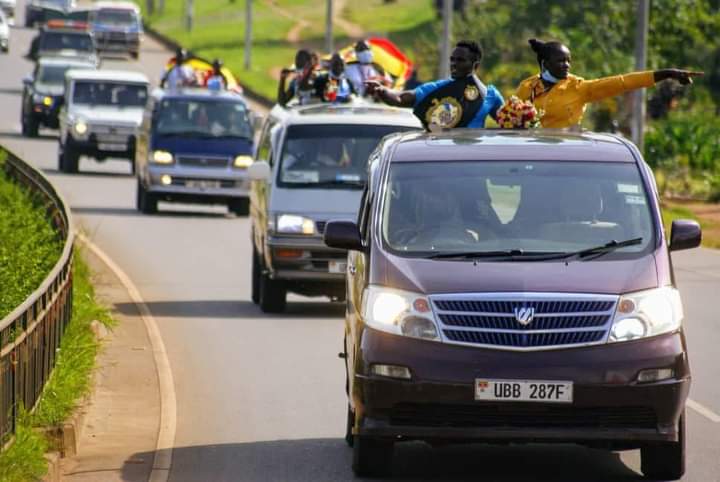 After all hardships faced at home before traveling to Egypt, the first ever Uganda Kickboxing National Team defied all odds to shine in the recently concluded World Kickboxing championship held in Cairo, Egypt.
Despite the stumbles ahead of their travel to Egypt from the Karisa faction who selfishly never wanted the team to travel, the team won a total of nine medals including three (3) golds, four (4) silver and two (2) bronze in the different categories of Muai Thai, low kick, K1, Mixed Martial Arts (MMA), kick light and full contact.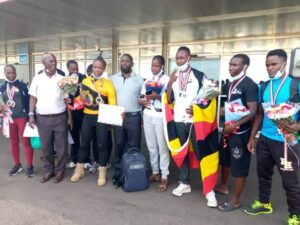 The historical 11-man victors returned home on Monday 25th October 2021 from Egypt.
However, the medalists landed to a golden warm reception upon return home despite leaving for the championship with heavy financial burdens and hectic process for travel clearances.
On return, the team was received by Lieutenant General Peter Elweru, president of Uganda Kickboxing Federation (UKF) Patrick Luyonza, Chief Executive Officer (CEO) Harry Mwebesa and Lieutenant General Peter Elweru in company with the media.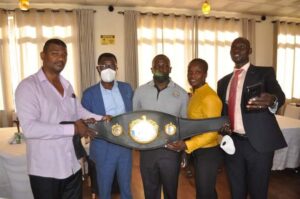 They were then hosted in a VIP lounge of Entebbe International Airport for a press conference.
The historical first ever Uganda Kickboxing National Team which was captained by the hardest lady Patricia "Black Pearls" Apolot was composed of the Junior and Pro-arm fighters.
Since Luyooza's reign to the federation's leadership after the demise of the then president Hassan Ssekirime (RIP), Karisa faction have held the sport's activities with numerous court injunctions which has affected the players of the sport.
Its currently confirm the federation will go to polls on 28th November 2021 to usher in a leadership which will put an end to the interim status of the current committee.