Kayongo overwhelmed with turn up as first Corporate Woodball Circuit Climaxes at MUBS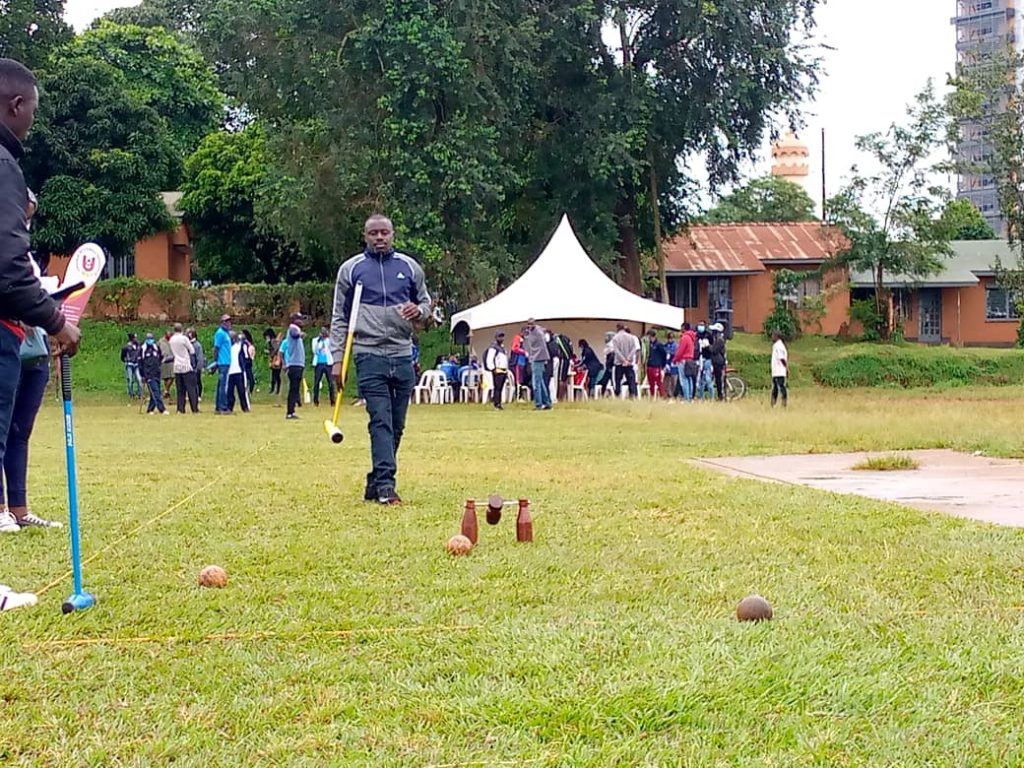 Woodball Federation president Paul Mark Kayongo was overwhelmed with a huge turn up for different clubs and players at the first Woodball Corporate Circuit held at held on Sunday 25th April 2021 at Makerere Business School in Nakawa, Kampala.
The circuit came amid set Standard Operating Procedures after along sudden break off of the sport due to COVID-19 which led to the cancellation of the 2020 Woodball championships.
President Mark Paul believes the corporate circuit event gave them a go ahead this season and was a great platform to rejuvenate players, officials and federation mindset.
"We the leaders of Woodball in the country are overwhelmed by the huge turn up despite the long break which we believe has had effects to the players.
Observing the Standard Operating Procedures is yet another hard condition including all the restrictions.
We are happy with the turn up and this being the first event, it gives hope that other events will be effectively participated in.
The long spell and rain has had an effect on players' performance but we expect better shows in the coming events." Kayongo.
"The performance levels are very low compared to what the players exhibited before the long break. The playing is not at standard and this was expected since we are kicking off our Woodball season. It gives us hope that as we head to more events this year, the players' performance will keep improving to throughout our annual season as planned, their expected performance shall be regained." Kayongo added.
This event attracted over six corporate teams. Bugema University and Ndejje University took the day.
Bugema University, overshadowed others with 212 strokes in the Women team's event ahead of runner up Ndejje Corporate who gathered 220 strokes.
In the men's category, Ndejje Corporate was too good for the rest, collecting 187 strokes to carry the day to their possession.
Jackson Masiga of Kisubi Corporate (40 strokes) won the individual Senior Corporate as Michael Mako (47 strokes) and Nansereko Maria Tereza (Ndejje Corporate) were crowned in the men and women's singles respectively.
The 2021 second Woodball circuit events on the calendar is scheduled for 13th June at Bugema University.
Selected day's results
Individual Senior Corporate (Men)
• Masiga Jackson (40 strokes) – Kisubi
• Rwaganika Absolom (42 strokes) – Ndejje
• Ssemata Raymond (45 strokes) – Ndejje
Men's Single Category
• Mako Michael (47 strokes) – Ndejje
• Mugarura Timothy (48 strokes) – Ndejje
• Gumisiriza Ronald (50 strokes) – Zoe
Women's Single Category
• Nansereko Maria Teddy (47 strokes) – Ndejje Corporate
• Balemesa Justine (47 strokes) – UNEB Corporate
• Najjuma Joan (48 strokes) – Bugema University)
Men's doubles
• Yuda and Barungi (46 strokes) – Tigers
• Kigongo and Bulese (47 strokes) – Bugema
• Sombe and Baker (47 strokes) – Tigers
Women doubles
• Balemesa and Nandugwa (47 strokes) – UNEB
• Nansereko and Nakazi (55 strokes) – Ndejje
• Nankya and Matovu Rose (58 strokes) – Zoe
Teams event (Women)
• Bugema University – 212 strokes
• Ndejje Corporate – 220 strokes
• UNEB Woodball Club – 231 strokes
Men
• Ndejje Corporate – 187 strokes
• Tiger Woodball Club – 203 strokes
• Bugema University – 226 strokes
About Author