FWSL: Shadia Nankya's early strike hands UCU Lady Cardinals maximum points over She Corporates.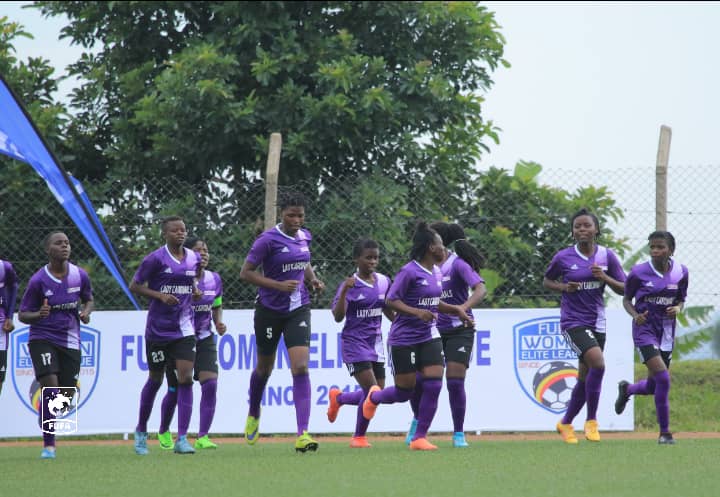 UCU lady cardinals started the new season with a 1-0 win against She Corporates in a highly intensity tie held at FUFA Technical Center in Njeru on Tuesday 27th April 2021.
Crested Cranes defender Shadia Nankya scored in the 5th minutes to put her side in the lead which eventually turned out to be the match winner.
She Corporates looked organized and kept possessing and pressing but failed to create enough chances to score goals. However, the Sharks also failed to be clinical on a few chances they got.
Uganda's women football great Hasifah Nassuna kept on changing the flanks to create problems to Shark's defense but failed to penetrate the defense despite playing a very big role in today's win for UCU.
At the beginning of the second half, She Corporates tactician Ali Zzinda made immediate substitute as Bridget Nabisaalu paved way for Cissy Nantongo to pose more pressure and threat to the UCU defence, however, all good effort hit a dead end.
In the 49th minute, Jauhara Nabaggala missed a chance to double UCU Lady Cardinals' lead, as she put the ball over the bar while in the box.
In the space of 4 minutes, Ronah Nantege of She Corporates failed to score after missing two clear chances that would have put her side in the lead to overturn the result.
In the 60th minutes, She Corporates made double substitution as Akuuku Penninah and Ronah Nantege created space for Thungu Janet and Atim Susan respectively. While UCU put off Jauhara Nabaggala for Nakasi Jackline.
In the 70th Minute, Atim Suzan was unlucky to Equalize after her shot kissed the crossbar a chance considered to be one of the game's best moments.
UCU Lady Cardinals continued to handle the opponents till the last minute of the game.
Jimmy Kintu coached side UCU Lady Cardinals will continue to look for maximum points tomorrow against the high flying Lady Doves who thumped Isra Soccer Academy 5-0 in their opener 9am at FUFA Technical Centre, Njeru.
This was was the second group game for She Corporates after their 1-0 win against Olira High School in the opener held on Monday 26th April at FUFA Technical Center in Njeru.
About Author