FWSL: Siporosa Amoding's late strike rescues a point for Olira against Lady Doves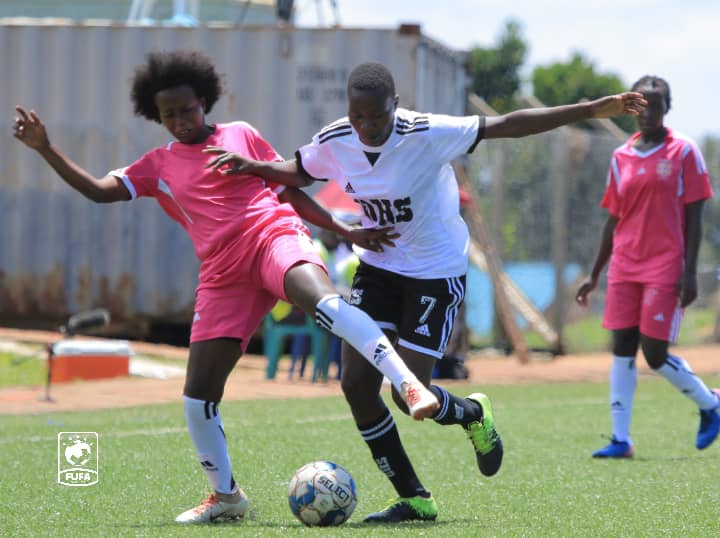 Siporosa Amoding's header was enough to rescue a point for Olira High School as they shared spoils with Lady Doves in 1-1 draw at FUFA Technical Centre, Njeru on Tuesday 27th April 2021.
Lady Doves entered the game as favorites and were expected to score more goals after their sublime 5-0 start against Isra Soccer Academy yesterday.
Both teams started on a high and a Fazila Ikwaput hard strike sent Lady Doves into the lead in the first 35 minutes of the game.
Before the end of the first half, Olila tried to force for an equalizer but Lady Doves custodian Daisy Nakaziro with an organized defence denied Olira a chance.
The second half kicked off with Lady Doves looking dangerous with great command, dominance and possession. However, Olila exhibited high levels of resilience and shape to stop them.
Siporosa Amoding through a seemingly controversial corner heeded in Olira's equalizer in 75 minutes of play.
Shortly after the equalizer, Lady Doves made a forced substitute in the 80th minutes as Nakito Nabirah was stretched off the pitch due to injury.
FUFA Women Super League Group B action continues tomorrow as UCU Lady Cardinals play Lady Doves at 9am and Olila High School take on wounded Isra Soccer Academy.
The top teams will qualify for Semifinals to be played on Monday 3rd May 2021.
About Author