FWSL: Reticia Nabbosa strike sends Lady Doves into final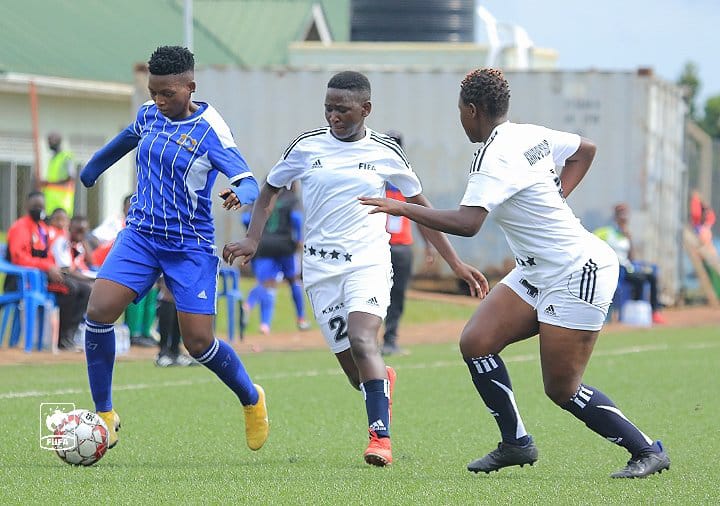 Lady Doves have reached the 2021 finals of FUFA Women Super League after edging Kawempe Muslim Ladies FC 1-0 in the epic semi-final tie at FUFA Technical Center in Njeru, played on Monday 3rd May 2021.
Kawempe started the game with two typical center forwards Juliet Nalukenge and Nasaazi Allen, a system that showed Kawempe wanted to score goals despite failure.
With just 30 minutes of play, Samalie Nakacwa technically injured Fazila Ikwaput to cause a forced substitution for Lady Doves as Joweria Nagadya replaced injured league top scorer.
In the 45+1 minute, Reticia Nabbosa pulled her muscle in over 30 yards to find the back of the net to put her side Lady Doves into a 1-0 lead at the break.
At the resumption the second half, Kawempe Muslim nearly equalized after Hadijja Nandago dribbled past the entire Lady Doves defence despite her feeble effort being saved by experienced custodian Daisy Nakaziro before forward Juliet Nalukenge shot the rebound at the cross bar.
As the game grew, Kawempe introduced Sharon Nadunga to replace Hadijja Nandago and Kawempe had four front forwards looking for an equalizer.
Kawempe kept possessing and pressing in search for an equalizer, however, Lady Doves' maturity and experience calmly contained them to the last minute.
At the end of the game, Lady Doves started their famous chanting song "Oliwakisa Mukama", thanking lord for pushing them into the first ever historical FUFA Women Super League final.
Lady Doves will face the winner between UCU Lady Cardinals and Uganda Martyrs Lubaga Women Football Club whose semi final is on a few minutes from now.
About Author