FUFA Women Super League: Olila, She Corporate register wins as UCU set for Tooro Queens tomorrow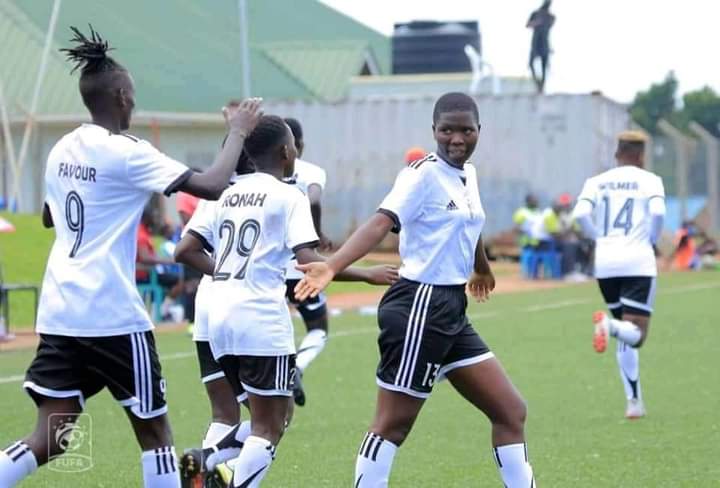 She Corporate FC returned to winning ways against troubled Lady Doves FC on Saturday 26th February 2022 with a 2-1 victory in Nakawa.
The Sharks who lost points last weekend following a goalless draw against Rines SS WFC registered maximum points in match-day four against Lady Doves through Ronah Nantege and midfielder Phiona Nabumba.
Lady Doves took an early lead in the 15th minute of through forward Fazila Ikwaput.
However, celebrations were short live, as the Sharks through Ronah Nantege tapped in home to level matters in 47th minute of the game.
Midfielder Phiona Nabumba held matters on her shoulders to separate the tie with an explicit free in the 74th minute that inflicted a 3rd defeat of the season to reigning Champions.
The 2-1 victory against Lady Doves FC took She Corporate top of the table on ten points, one ahead of on form UCU Lady Cardinals who face FC Tooro Queens tomorrow.
After today's defeat, the reigning Champions Lady Doves have now picked just a point in their opening four games and currently bottom of the table.
The Masindi based outfit suffered a humiliating defeat to UCU Lady Cardinals last weekend, falling 5-0 in Mukono, becoming their heaviest loss in the league.
Elsewhere, wounded Olila High School WFC beat newbies She Maroons 1-0 in Soroti.
The Soroti based side Olira who lost 2-1 to Uganda Martyrs WFC last weekend, have moved to 3rd position at six points after today's home win.
Former Kawempe Muslim WFC player Grace Aluka scored the only goal of the game, taking her season tally to two.
On the other hand, She Maroons remained second from bottom on one point and have now lost their last three games to UCU Lady Cardinals, Kampala Queens and Olira with an identical score of 1-0.
The league continues tomorrow with table leaders UCU Lady Cardinals getting back to action on with a log trip to the tourism city, Fort-Portal to face tricky FC Tooro Queens who have picked three draws so far in all their opening three fixtures.
The Cardinals remain the only side with a 100% run in the league with nine points from three games and yet to concede.
The current league top scorer Hasifah Nasuuna has scored a goal in each of the UCU Lady Cardinals' game this season.
About Author