FUFA Women Super, Elite Leagues to be played in gala format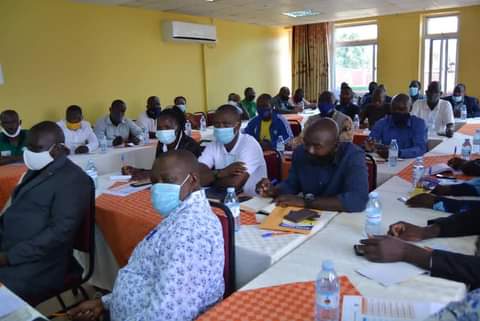 The Federation of Uganda Football Associations (FUFA) has engaged all FUFA Super league and FUFA Women Elite League club chairpersons and CEOs in a preparatory meeting held on Wednesday 10th March 2021 at Jevine Hotel, Ndeeba and discussed the moderates of the two leagues kick off.
In the meeting, FUFA tabled proposals which highly adopt the recently concluded Masaza Cup tourney.
FUFA proposed a gala format of play as the FUFA Women Super league will be divided into two groups and the FUFA Women Elite league settles for four where the top two teams in the group will automatically qualify for semi-finals.
A contingent of 20 people per club made of at least 16 players and one female officer shall access the games venue FUFA Technical Center, Njeru shall be the composition for each team.
The proposal also suggested that kick off of the games be on 11th April.
In the proposal, FUFA is to handle all testing, feeding and accommodation costs for teams. Teams will only fund their transport to and from Njeru.
Heated discussion majorly centered on the criteria of grouping, and the timing of the kick off.
Since most clubs especially in the Super league are institutional, many players will be writing UNEB papers and members proposed for an adjustment of two weeks ahead.
According to the U17 head coach of the women national team and also the Kawempe Muslim tactician Ayub Khalifa Kiyingi, the gala format is of great advantage to cut costs especially during this COVID-19 time.
"The gala format is of great advantage to some teams which have always struggled financially. It's cost cutting since FUFA will cover testing, feeding and accommodation costs as all teams will be camped in Njeru," Ayub said.
He however noted some demerits of the format. Ayub noted that the champions from the gala tournament will represent Uganda at the CECAFA and the newly introduced continental championships but players in this format are limited to exposure and it doesn't favor good teams.
"In this format a few games are played and players can't show their best abilities. The format doesn't favor good teams and it will eventually cost the country's representatives at the international level," Added Ayub Khalifa Kiyingi.
 Proposed FUFA Super league groups
Group 1
Kawempe Muslim Ladies
Uganda Martyrs WFC
Kampala Queens
Makerere University
Tooro Queens WFC
Group 2
UCU Lady Cardinals
She Corporates
Olila High School
Isra Soccer Academy
Lady Dove WFC
Club Officials present
1. Matthias Kakulu- She Corporate
2.J B Semmujju – Uganda Matyrs
3. Ronald Masembe- Uganda Matyrs
4. Khalifa Ayub-Kawempe Muslim
5. I B Lubulwa-Kawempe Muslim
6. Francis Ruhimbazi – Tooro Queens
7. Douglas Kahuma- Tooro Queens
8. Scovia Angyendo- Lady Doves
9. Herbert Ssegendo- Lady Doves
10. Andrew Kaddu – Isra
11. Sarah Olira – Olila WFC
13. Aisha Kyagba – Kawempe Muslim
14. Brian M Nsubuga- Makerere
15. Fred Ndawula-Makerere
16. Allen E Anguyo- She Maroons
17. Aisha Bakari- She Maroons
18. Justine Bua- SPAG WFC
19. Samson Eyumu – Amuria H/S
20. Denis A Kasozi- Ajax Queens
21. Wilber Shaka – Wakiso Hills
22. Hassan Kirunda- She Kataka
23. Abbas Nsubuga-Luwero Giants
24. Edward Lugolobi- Luweero Giants
25. Samuel Odongo- Dynamic Jjeza
26. Daniel Masembe- Rines WFC
27. Richard Byamukama- Rines WFC
28. Christopher Abigaba – King of Kings
29. Micheal Kilama- Vision Women
30. Rogers Ayesiga – King of Kings
31. Kiwanuka Serwanga – Wakiso Hills
32. Huzairo Kayima -Asubo Gafford Ladies
33. Richard Muhumuza -Dynamic SS WFC
34. Joseph Tugumisirize- Bunyaruguru Girls
35. Paul Okello- Vision Women
36. William Kasujja- Luweero Giant Queens
About Author