FUFA Holds a Successful FIFA, National Referees' Medical, Physical Fitness Tests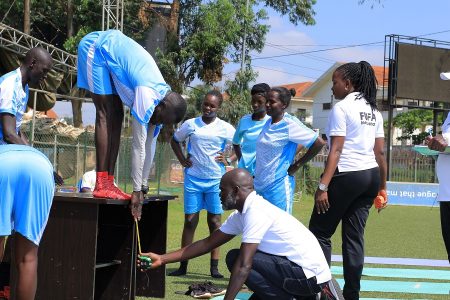 A total of 50 referees (23 FIFA) and 22 national referees underwent a successful medical and physical fitness tests.
The tests were held Saturday 24th October 2020 at FUFA Technical Center, Njeru and StarTimes Stadium – Lugogo in Kampala.
This came a day after the medical examination of these referees were held at the same venues.
Ali Kalyango and Ronald Mwesigwa supervised the a group of FIFA referees at Njeru, whilst Ronnie Kalema (Chairman FUFA Referees Standing Committee) alongside Rosebell Rwamuyamba, Ali Tomusange, JB Masiko, Kizito Rahman Nansubuga, Samuel Kayondo and Ndawula Muhammed Shaban were in charge at Lugogo.
According to Kalema, this exercise is undertaken four times in a year in a bid to ascertain the level of fitness for the referees ahead of continental assignments and national events as the StarTimes Uganda Premier League, StarTimes FUFA Big League, Stanbic FUFA Uganda Cup, FUFA Drum among others.
'FUFA is here to deliver refereeing as we professionalize the game. The significance of physical fitness tests is to ensure quality of the referees in the country.' Kalema noted. (FUFA website writes)
"This exercise is meant to establish their fitness levels as well as to update and refresh their knowledge and skills in the discharge of their abilities.
The objective was to update the participants on the Laws of the Game as well as evaluate their fitness and technical abilities for upcoming major competitions in the new season such as StarTimes Uganda Premier League, FUFA Drum, Stanbic Uganda Cup among others." Writes FUFA website.
FIFA Referees Men:
Mashood Ssali, Alex Muhabi, Ali Sabilla Chellangat, William Oloya, Ronald Madanda
FUFA Referees Men:
Rajab Bakasambe, Deogratius Opio, George Olemu, Asadu Semere, Robert Donney, Paul Turyamureba, Nasser Mohammed Kirya. John Bosco Kalibala, Muzamiru Waiswa, Lucky Kasalirwe, Ali Kaddu Kizza
FIFA Referees Women:
Shamirah Nabada, Diana Murungi
FUFA Referees Women:
Florence Ayaro, Immaculate Achillo, Habibah Naigaga
FIFA Assistant Referees Men:
Dick Okello, Okello Lee, Ronald Katenya, Isa Masembe, Hakim Mulindwa, Okudra Emmanuel
FUFA Assistant Referees Men:
Robson Atusinguza, Paul Omara, Rahman Atiku, Ahmed Kakembo, Mustafa Mafumu, Samuel Mbabali, Juma Osire, Shafiq Lulenzi, Ibrahim Ssekanjako,Mathias Omunyira, Gilbert Ngyendo, Noah Friday, Timothy Gumisiriza
FIFA Assistant Referees Women:
Lydia Nantabo Wanyama, Malex Nakito Nkumbi, Jane Mutonyi, Docus Atuhaire
FUFA Assistant Referees Women:
Elizabeth Nasolo, Eunice Tiwuwe, Oliver Nakito, Hawa Nyangoma
FIFA Beach Soccer Referees Men:
Kintu Ivan Bayige, Mugerwa Shafiq, Ssenteza Mohammed, Kawaga Kennedy Bazlio.
FIFA Futsal Referees Men:
Nsubuga Emmy Brian, Ssengendo Isaac
FUFA Futsal Referees Men:
Kazoora Emmanuel, Mulindwa Ismail.
Much of the information in this article is attributed to FUFA website.
About Author