Fortebet Real Star Awards: Saidi Kyeyune, Golfer Nsubuga win January Awards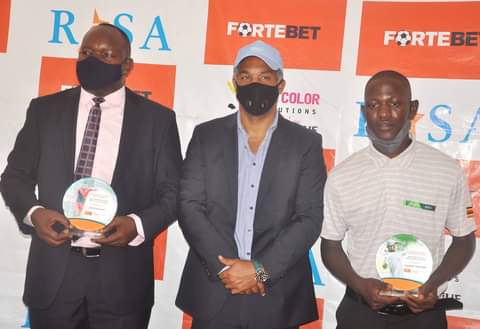 El Merriekh new recruit and Uganda Cranes midfielder Saidi Kyeyune and youthful golfer Godfrey Nsubuga were emerged victors in the Fortebet Real Star monthly sports awards.
They were six athletes from two sports disciplines of football and golf nominated as Kyeyune and Nsubuga were announced winners on Tuesday 2nd February 2021 at Route256 in Lugogo.
Three football players Saidi Kyeyune, Charles Bbaale and Farouk Yawe and golfers Rogers Eyoyo, Elton Thembo and Godfrey Nsubuga were the six nominees in the two categories by Fortebet Real Star monthly Sports awards.
Uganda Cranes midfielder and currently new El Merriekh recruit Saidi Kyeyune was January's football finest whilst Godfrey Nsubuga went home with the golf crown.
Kyeyune scoredd a CHAN tournament contender in Uganda's 2-1 defeat to Togo before his tournament second against Morocco in a 5-2 humiliation as Uganda bowed out of the ongoing CHAN championship in Cameroon.
His sublime performance at the tourney earned him a one year contract deal at Sudanese money bag El Merriekh.
Kyeyune beat two Masaza Cup young stars Charles Bbaale and Farouk Yawe.
Bbaale is currently the leading goals scorer in the tournament with seven goals in five games. He guided Gomba to the final where they meet Buddu on a date yet to be communicated.
Farouk Yawe, the Buddu custodian and skipper kept four clean sheets in the ongoing Masaza Cup. His heroics guided Buddu to the final.
The Golf category which had three youthful stars battling off depending on their January performance at the Entebbe Junior's Open Golf tournament was won by Godfrey Nsubuga.
Nsubuga with 73 gross at the championship, beat Rogers Eyoyo (77) and Elton Thembo 76.
About Author