Fortebet Real Stars Awards: Eric Kambale, Thomas Opio, Aden Faisal win May awards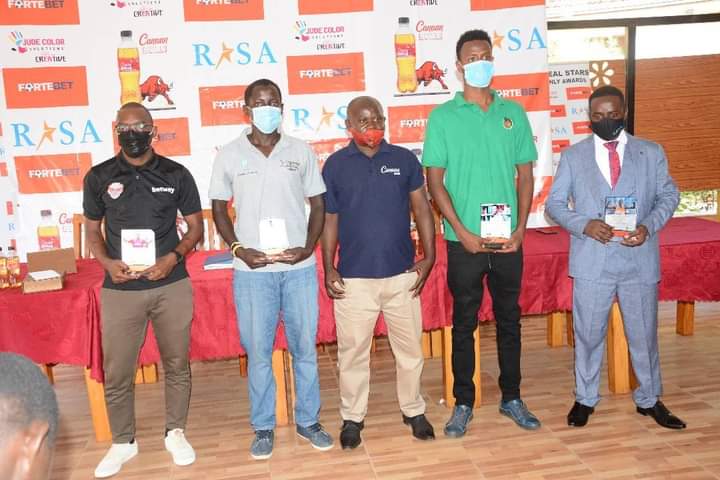 Express FC's Eric Kambale beat team mate and custodian Mathias Muwanga and URA FC forward Mukwala to win May awards.
Express FC forward Eric Kambale managed to score eight goals in the six games he played for Express in May both in the league and Stanbic Uganda Cup.
Eight of these goals have all come from the games league while he was not on the score sheet when Express and KCCA FC settled to a goalless draw in the first leg quarterfinal match of the Uganda Cup.
Kambale's goals came in Express FC's wins against Police (2-0) at Wankulukuku stadium. Kambale also notched a hat-trick in Express FC 3-2 win away to Kyetume in Nakisunga before his brace over Kitara in a 4-0 win at home and was also on target as Express defeated UPDF and Busoga United 1-0 and 4-0 respectively.
Goalkeeper Mathias Muwanga of Express was the other nominee for the accolade following his sublime performance in the month.
The custodian kept four cleans sheets in the five games he has been in charge. He kept clean sheets as Express beat Police,2-0, Busoga United 4-0, UPDF 1-0, and Kitara 4-0. He only conceded against Kyetume in 3-2 victory for Express.
The URA FC's forward scored 4 goals in the five games featured in the league. He scored a brace as URA defeated UPDF 2-1. He was also on the score sheet as URA beat Police and Onduparaka 3-1 each respectively. His performance enabled URA to remain title contention.
In the Hokey category, Thomas Opio emerged winner over Timothy Ntumba and Charles Ekapolon
The Hockey category had Thomas Opio (Wanainchi SC), Timothy Ntumba of Weatherhead and goalkeeper Charles Ekapolon (Weatherhead) in a highly tight competition.
Wanainchi SC striker Opio Thomas scored 10 goals in 4 games. Two goals came against Vikings, 3 MUK Stingers, 3 MUBS and 2 Ageist city lions.
Thomas Opio helped his team lead the national hockey league table with 12 games in 4 games.
Timothy Ntumba from Weatherhead scored 8 goals in the four games of may 5 goals against Historicals and three against MUBS and before he fired blanks in the last games.
Charles Ekapolon goal keeper Weatherhead Hockey Club played four games, finished the first three with clean sheets and conceded 3 goals in the last game as his team lost 2-3 to Kampala Hockey Club Stallions.
In the basketball category, Aden won JKL Lady Dolphins' Hope Akello and Samuel Ajaka of Ndejje.
Hope Akello averaged the league leading 18.5 points and 12.3 rebounds in four rounds. All victories which keep them shine this season.
Samuel Ajaka Ndejje angels averaged 18.2 in four games compared to Faisal Aden averaged 20 points KIU titans won four games in row and went into second on the table
The Fortebet, Jude Color Solutions and Canan Soda sponsored awards ceremony was held on Tuesday 1st June 2021 at Route256 Restaurant in Lugogo.
About Author