Boxing : E.D Dorothy Kisaka officially flags off KCCA Boxing Club boxers Shadir Musa and David Ssemujju for Olympics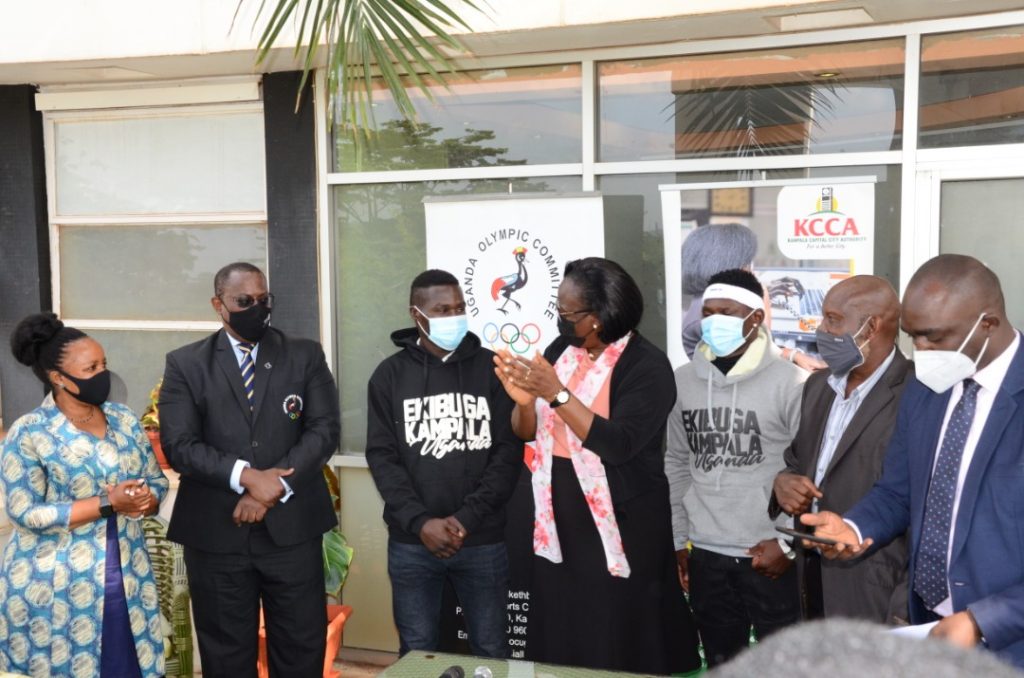 Kampala Capital City Authority (KCCA) Executive Director Dorothy Kisaka officially flagged off two KCCA boxing club boxers Shadir Musa Bwogi and David Ssemujju for the forthcoming Tokyo summer Olympics.
Ssemujju, Bwogi who are currently in a residential camp in Kavumba Recreation Center in Wakiso and the club coach Hussein Khalil received a token of UGX. 1,100,000 each a head of their travel to Japan for the July event.
"We are here to celebrate the great excellence of our two boxers who will represent Uganda in the Tokyo Olympics due next month.
I would like to congratulate our two boys Shadir Musa and Semujju David, for the hard work and determination.
As KCCA, we are proud that for the first time in history, 2 boxers who will represent Uganda in Boxing are from KCCA Boxing Club.
This demonstrates that Kampala City is a City of diversity, blessed with various talents that need to be promoted. This is why KCCA has 6 Sports Clubs (Football, Boxing, Netball, Volleyball, Athletics and Basketball) as the base for sports talent development. The clubs provide an opportunity for great talents to be sharpened in order to obtain such high-level of excellence.
For KCCA, this is the reward of our efforts; we saw you starting, supported you and have pushed you to a level where you are going to shine in the world.
KCCA supports approximately 200 athletes from the 6 sports clubs who are all city dwellers in different areas of Kampala; for example, Shadir Musa has excelled from the Naguru Slum to reach this far.
We thank the KCCA Boxing Club Executive Committee, the technical bench, our dear KCCA Coach Hussein Khalil (who will travel with the team), Uganda Boxing Federation, Uganda Olympic Committee (UOC) and the sponsors of the national team who have supported the team." Dorothy Kisaka.
This event was held on Tuesday, the 8th June 2021 at City Hall in Kampala. It was graced by the KCCA executive director Dorothy Kisaka, Uganda Olympic Committee president Donald Rukare, Juliet Namuddu Nambi the KCCA director for education and social services, KCCA boxing club executive committee members, among others.
Shadir Musa Bwogi and David Ssemujju together with Catherine Nanziri are the three boxers who will join a long list of Athletics team and a rower to form team Uganda.
The boxers have been in a residential training camp at Kavumba Recreation Center for a month since 8th May after a week's non residential.
Uganda has so far confirmed 25 athletes that have secured their Tokyo – Japan Olympic games tickets for the games set to start on 23rd July 2021.
About Author