Football Ex-Internationals Officially Launch Governing Committee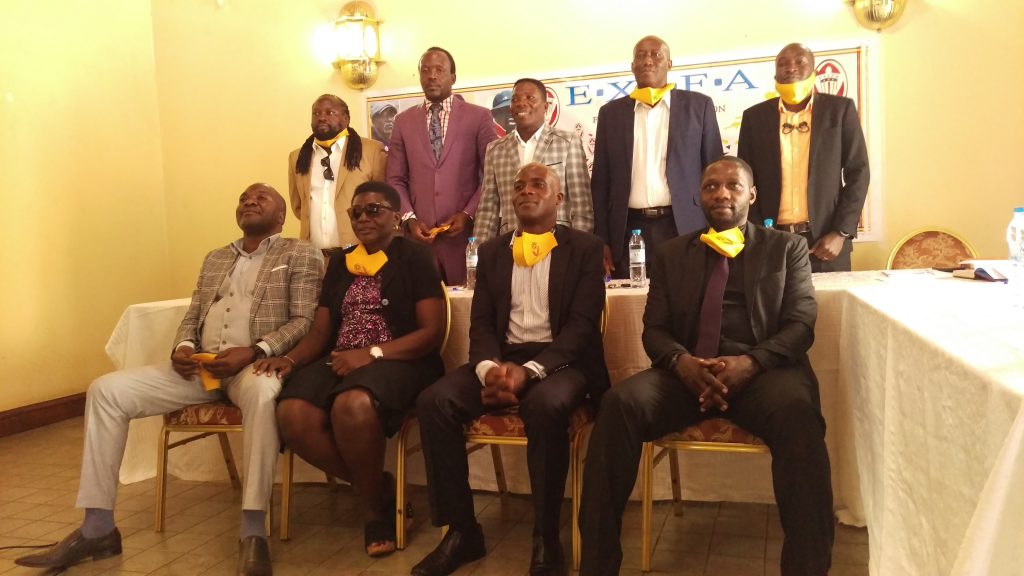 The former Uganda Cranes players (Ex-Internationals) have launched the Interim governing committee that will lead the rejuvenated Ex-International Footballers Association.
The committee of 19 members that was appointed last month at Pope Paul Hotel and elected Jackson Mayanja Mia Mia as the chairman, was officially unveiled to the public before the media at Grand Imperial Hotel today 11th August 2020.
The Association that was formed in 1975 but it has been not functioning since 2012 when the football governing body FUFA, divorced the association from General Assembly, citing out of an endless wars.
But the death of many Ex-Internationals and dying in shameful ways and the recent incident where Legend Jimmy Kirunda died while on streets sparked off the idea of rejuvenating the Association that will bring them together other Ex-Internationals.
"The main importance and the reason as to why we are here is to officially inform the public that we are back and we decided to come up with a committee such that we can talk for ourselves not others to speak for us." Jackson Mayanja the chairman of the Association at the launch.
After launching the committee, Mayanja also cited out that they are not in place for political reasons but to set up a foundation to help the already Ex-Internationals and those coming in future.
He also called for support from the government and other people who have been helping the former players individually.
"Now we are an organized group of people, not for politics but to help our members, so we ask the president of this nation, H.E Yoweri Kaguta Museveni to help us like he is doing for other associations.
We request the president to inject in this because most of Ex-Internationals we have today, brought glory to this nation during president's regime." Mayanja.
The full interim committee:
President: Jackson Mayanja
Vice President: George Simwogerere
Secretary: Gibby Kalule and Kefa Kisala
Treasurer: Sam Simbwa and Philip Obwiny
Organising Secretary: Patrick Ntege and Senoga Umaru
Project Manager: Daniel Walusimbi and Dan Ntale
PRO: Andy Mwesigwa and Dan Mubiru.
Welfare: Baker Masiko, Majidah Nantanda and Christine Wanyana. The two ladies also represent women E-Internationals.
Council of Wisdom: Ali Sendegeya, Fred Mukasa, Tom Lwanga and Godfrey Nola.
About Author